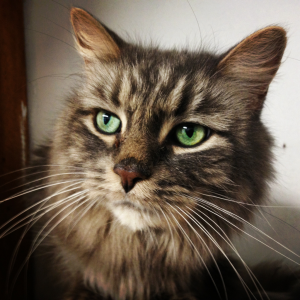 UPDATE: Congratulations to Earl Grey, on finding a comfortable, new forever home. We're very pleased. Enjoy!!
————————————-
Earl Grey is a nine year old, neutered male who is up to date on his vaccinations and needs a quiet home where he can receive lots of individual, "one on one" time.
His previous residence was chaotic and this poor little guy never did have the care and socialization that he so desperately required. Over the course of the last few months he has really "come out of his shell" and is the sweetest boy. He craves attention, will now come when he is called, loves his treats and is hugely affectionate. Earl Grey deserves THE VERY BEST forever home at this stage in his life.
A senior citizen, a single working individual or a couple with lots of time on their hands would be great for this handsome chap.
---
For more information on how to Adopt Earl Grey or any other pet you see on this website,
please contact Oasis Animal Rescue and Education Center.