UPDATE 15 April, 2013:
When the kitties are happy. We're happy. So today we're happy!
Latte and Leela have found their forever home! YAY!! They'll be staying together too as they have been adopted by a couple with two daughters who have had cats before that all died of old age. The family is excited beyond belief to welcome these two little ones into their home.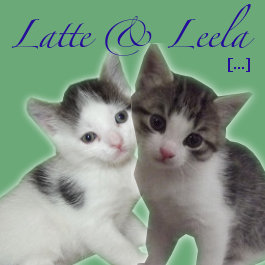 So congratulations Latte and Leela and best wishes to you all.
For those of you who may be interested in adopting a kitten, Misty delivered two kittens (yet to be named) on April 10th, Frankie delivered two kittens (Rory and Logan) at the end of March and we'll be posting information later today about 4 little beauties born to Desiree.
————————————————————
UPDATE 12 April, 2013:
Time flies quickly, eh? There's just two more weeks before Sapphire's kittens Pistachio and Miko go off to their forever homes. Latte and Leela are still shopping around for the perfect place to live!!!
Sapphire's four kittens are now six weeks. Here are the latest pictures of the four of them.
Dinner time for Sapphire's Kittens (now six weeks of age):
—————————————
UPDATE 8 April, 2013:
Latte and Leela are still looking for forever homes!! Contact us today.
Lots of cute kitty pics below too…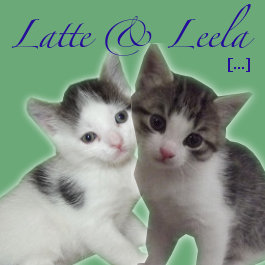 UPDATE 5 April, 2013:
These little guys are getting cuter every day!! [click through our slideshow]
UPDATE 1 April, 2013:
If you've been following their story, young mom Sapphire was pregnant when she arrived at Oasis. Despite the fact that kittens would soon be born, a caring couple decided to offer her a forever home and to help her raise the young ones when they were born. Well, what a great job they've done. The four kittens were born Feb. 28/2013. Two of them, Miko and Pistachio, have found permanent homes and we suspect that it won't be long before the remaining two kittens, Leela and Latte, will also be adopted.
Here are fresh pictures of these little cuties. If you'd like more information on adopting Leela or Latte. Please contact us at 289-385-6293 – or scroll down to use our Contact Form.
UPDATE 22 March:
Here's a few updated pictures of Miko (adopted), Leela and Latte (both still seeking homes). All growing nicely!!
UPDATE 15 March:
Male kitten Pistachio found a new home earlier in the week. His brother Latte and sisters Leela and Miko are still searching for their new homes.
————————————–
UPDATE 6 March:
We've managed to sex the kittens born to Sapphire and turns out we have two boys and two girls. All of them have been given names, so here we go:
Dark kitten with mustache is a boy. His name is Pistachio –

ADOPTED! Pistachio will be the new pet for a young couple in university. Very Clever!

White kitten with black spots is a boy. He is called Latte
White belly tabby is a girl. She is called Leela
White belly tabby with two eyebrow dots and tiniest bit of brown is a girl. She is called Miko.
As photos become available we will post them on this page.
If you are interested in providing a new home for one of Sapphire's kittens, please scroll down for our contact form.
————————————————————-
ORIGINAL STORY:
Remember Sapphire, a Seal Lynx Point Siamese cat that turned out to be pregnant when she arrived at Oasis, but was adopted recently by a caring couple willing to help her raise the kits? Well, she delivered four beautiful fluffy kittens (between 3:00 am and 6:00 am) on February 28, 2013.
They are all thriving.  There is one white one with black spots and three grey tabby with stripes and a few seal spots – each having striping of white black and grey on the face (two with distinctive dots on the face as well).  Sapphire is a good attentive mother.  The kittens are all the same size.
If you are interested in adopting one of Sapphire's kittens (they'll be ready to join new homes on April 29th, 2013), please contact us using the form below.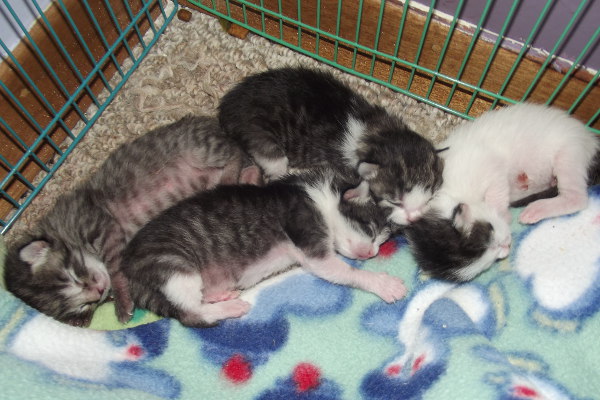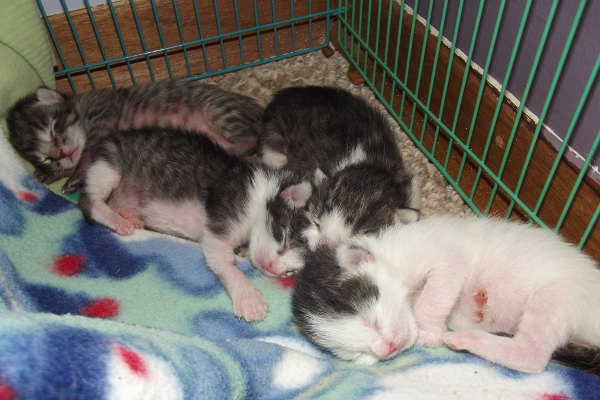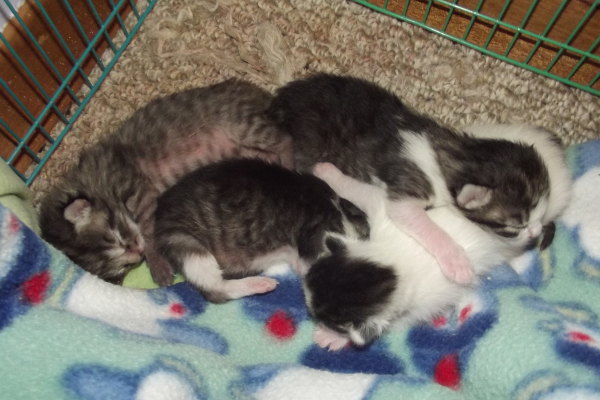 ———————————————-
If you would like more information about reserving a kitten for adoption please contact Oasis at 289-385-6293, or complete and send this contact form:
I'd like to know more about adopting a pet from Oasis:
Please check you've entered your contact details correctly. When you press 'Submit', you will be redirected to our home page and a confirmation email will be sent to you - if not received in your inbox, please check your spam box. If applicable, please also specify the name of the animal you are enquiring about. Thank you.
See All Of Our Rescue Pets for Adoption in Durham Region
Help our rescue pets find new homes – Please share our animal stories with your friends. Or subscribe here for free – receive pet updates straight to your inbox:

Oasis Animal Rescue – a non profit organization providing Durham Region society with humane animal rescue services – specializes in pet adoptions, re-homing and community outreach programs. Telephone 289-385-6293