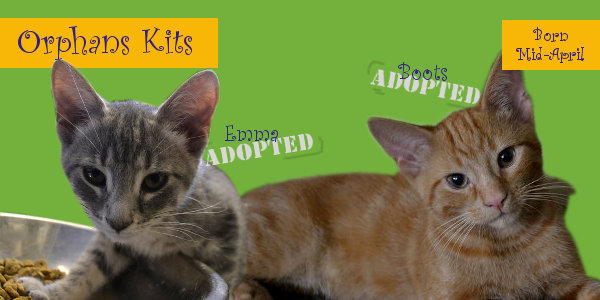 UPDATE 7 November:
It took a while, but Emma has finally been adopted. Emma was adopted by a retired couple who visited her a number of times in her foster home and were suitably enamored. Her sweetness and beauty sealed the deal.
Congratulations Emma from all of the friends you've met at Oasis Animal Rescue. Have Fun!!
——————————————–
UPDATE 30 July:
Boots has found his forever home! This lucky guy is off to live with a couple in their late twenties, in Oshawa. The gentleman is a fire fighter with shift work so Boots will  have someone at home to keep him company.
Emma is being fostered by the same couple as a companion kitten for Boots – until a permanent home is found.
If beautiful Emma could be your next lovable pet, please contact us at 289-385-6293 (or scroll down for our contact form).
UPDATE 21 July:
Boots and Emma are still available for adoption. Please contact us at 289-385-6293 if you can provide a home for Boots or Emma (or scroll down for our online contact form).

Pantera was living in a foster home by a man who had adopted Cherry over a month ago, but the two kittens became such good friends and the foster carer couldn't bear to see them separated. So, yes! Pantera has found a forever home. Congratulations and best wishes from your friends here at Oasis.
Here are recent photos of playful Boots and Emma.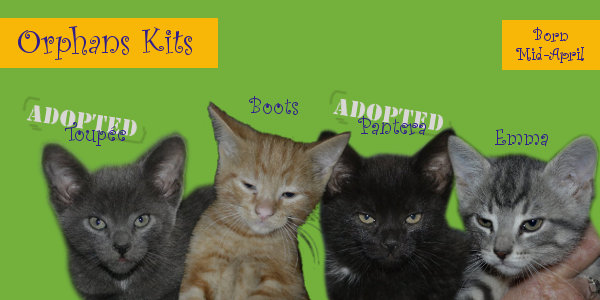 UPDATE 19 June:
Lucky day today for one of these little guys….. first in this litter to find a forever home is Toupée. Congratulations.
Hopefully your sibling won't have too long to wait!
If you'd like to learn more about adopting Emma, Boots or Pantera – scroll down to use or contact form, or call us at 289-385-6293.
—————————————————-
Original Story:
Toupée (male), Emma (female), Boots (male) and Pantera (female) are seven weeks of age.
These adorable little ones are seven weeks of age and will be headed off to the vet in the third week of June to be examined, dewormed and receive their first shots.
Born to a semi-feral mother, they have evolved into sociable, friendly kittens whose sole purpose in life is to play, play, play!!!
———————————————-
If you would like more information about adopting a rescue pet please contact Oasis at 289-385-6293, or complete and send this contact form:
I'd like to know more about adopting a pet from Oasis:
Please check you've entered your contact details correctly. When you press 'Submit', you will be redirected to our home page and a confirmation email will be sent to you - if not received in your inbox, please check your spam box. If applicable, please also specify the name of the animal you are enquiring about. Thank you.
Durham Region Cats For Adoption.
Durham Region Dogs For Adoption
How Your Donations Help The Pets At Oasis
Help our rescue pets find new homes – Please share our animal stories with your friends. Or subscribe here for free – receive pet updates straight to your inbox:

Oasis Animal Rescue – a non profit organization providing Durham Region society with humane animal rescue services – specializes in pet adoptions, re-homing and community outreach programs. Telephone 289-385-6293