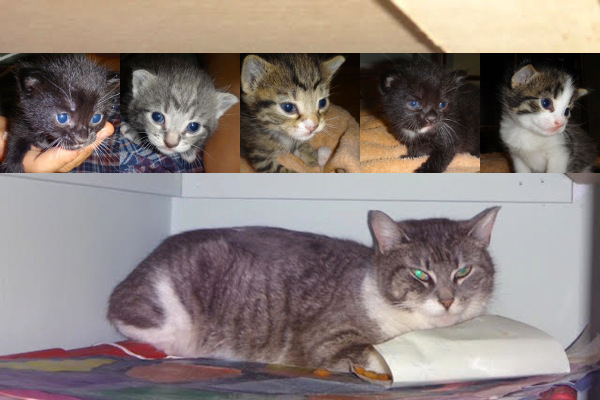 UPDATE 30 May 2017:
Gaston is the last in his litter to be adopted. He has found his new, forever home with a young couple from Oshawa. He will be joining a family where there is an existing cat so will have a feline companion all his own.
Congratulations to Gaston and his new family.
Momma cat Agathe, who has been doing a great job raising her kittens, is still searching for a forever home.
UPDATE 25 May 2017:
Now seven weeks of age, Agathe's kits are so cute. Only one kitten, Gaston, has not yet been adopted. Momma cat Agathe is also looking for a home. Please scroll down for our online contact page if interested in adopting Gaston or Agathe.
UPDATE 12 May 2017:
Onyx has been adopted by an Oshawa family with two other felines in the household. This little guy will have lots of company!!
Way to go Onyx!
Here's hoping Gaston and momma cat Agathe find their forever homes soon too.
—————————————
UPDATE 9 May 2017:
Belle has been adopted by a family in Oshawa. The children are beyond excitement about the new addition to their household.
Gaston, Onyx and mom Agathe hope they will find new families too!
Please scroll down for our online adoption form.
—————————————
UPDATE 8 May 2017:
Approaching five weeks of age, Agathe's family is looking great: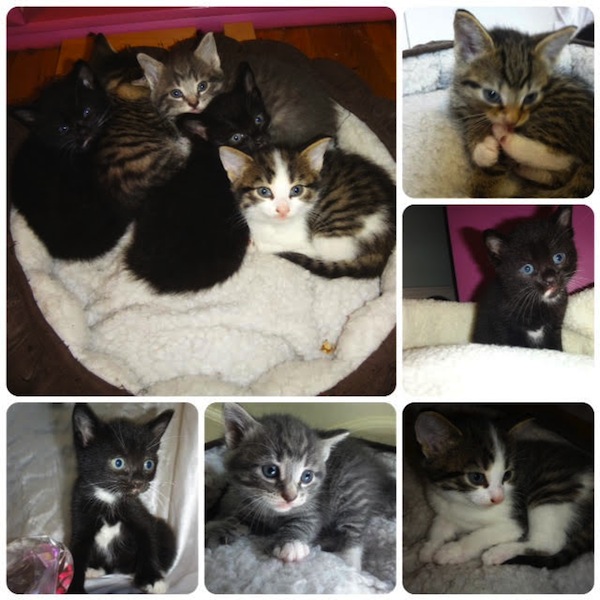 UPDATE 26 April, 2017:
Congratulations to kittens Josette and Lumiere. When they are ready to leave mom, forever homes are waiting for both of them.
We're still hoping that Belle, Gaston and Onyx, as well as mom Agathe, will also find forever homes. Please scroll down for our online contact form if you are interested in adopting a pet.
Learn more about our adoption process.
Submit an online adoption application.
———————————–
Original Post:
April 24, 2017: Agathe gave birth to her five little ones in Montreal three weeks ago. Oasis agreed to place the litter and mom with experienced foster parents in Durham Region until they are ready to join their forever families at eight weeks of age.
The babies at three weeks are just beginning to walk. Romping and playing comes next for these adorable siblings.
Please scroll down after the photos for our Contact Form.
———————————————-

———————————————-
If you would like more information about adopting Agathe please contact Oasis at 289-385-6293, or complete and send this contact form:
I'd like to know more about adopting a pet from Oasis:
Please check you've entered your contact details correctly. When you press 'Submit', you will be redirected to our home page and a confirmation email will be sent to you - if not received in your inbox, please check your spam box. If applicable, please also specify the name of the animal you are enquiring about. Thank you.
CATS For Adoption – Toronto and the GTA.
DOGS For Adoption – Toronto and the GTA.
How Your Donations Help The Pets At Oasis
Help our Toronto and GTA rescue pets to find new homes – Please share our animal stories with your friends. Or subscribe here for free to receive pet updates straight to your inbox:

Oasis Animal Rescue – a non profit organization providing Durham Region, Toronto and GTA with humane animal rescue services – specializes in pet adoptions, re-homing and community outreach programs. Telephone 289-385-6293
Subscribe To Our News Feed
You'll Get FREE Updates and info on rescue pets available for adoption in Toronto and GTA sent direct to your inbox. (Oasis does not share your email address and you can unsubscribe at any time.)
Delivered by FeedBurner