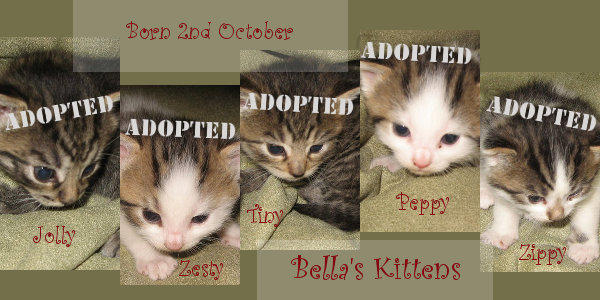 UPDATE 17 November:
Excellent News… ALL of Bella's kittens have been adopted thanks to successful efforts by their foster mom.
Have fun kids and best wishes from Oasis Animal Rescue.
UPDATE 7 November:
Bella's kittens are coming on strong – even using the litter box now. Here's the latest photos.
To discuss adopting one of the cute kittens, contact us today at 289-385-6293 or scroll to the bottom for our online contact form.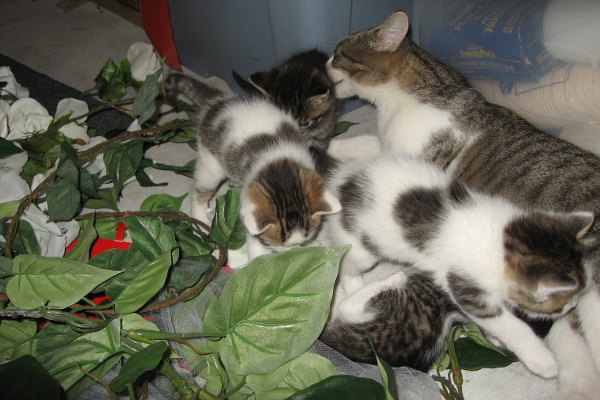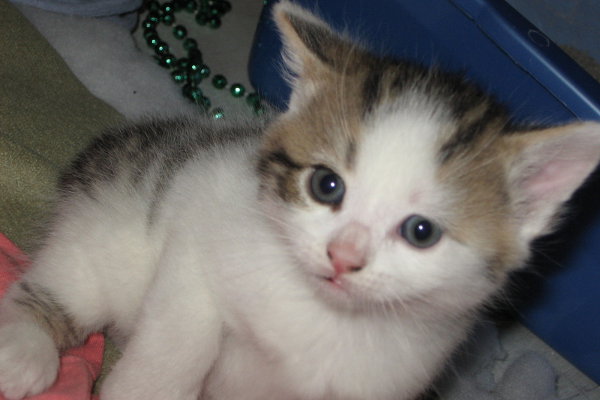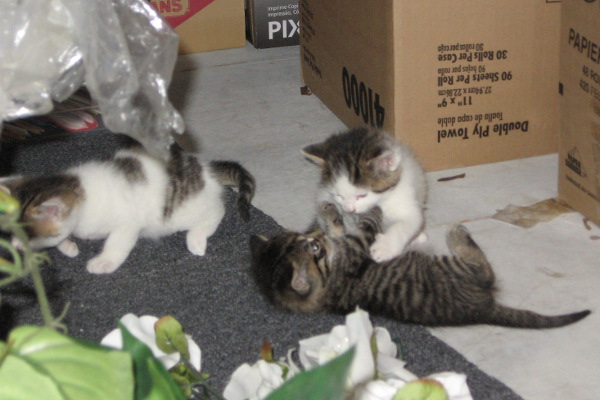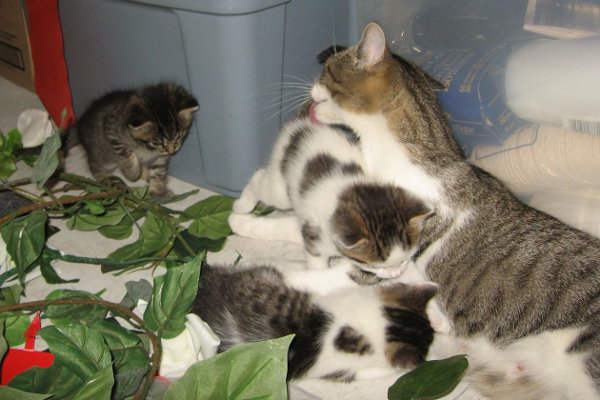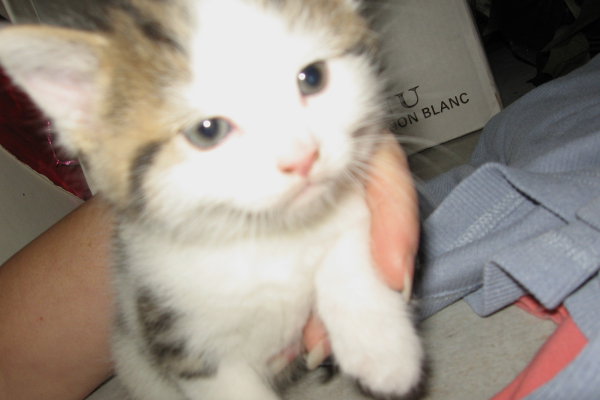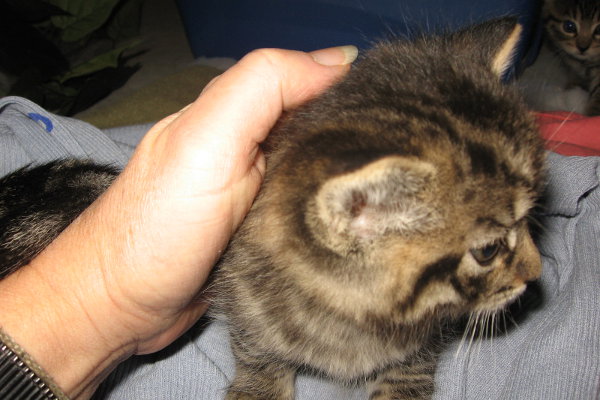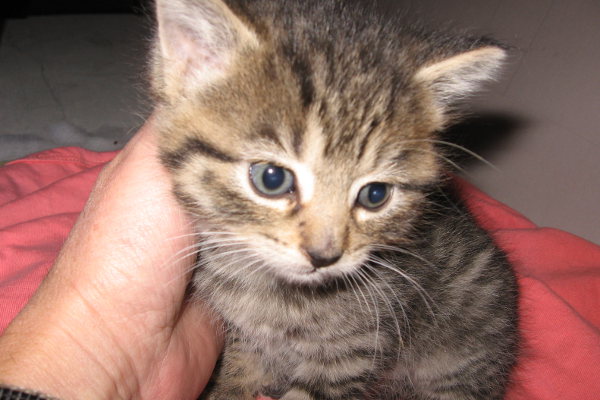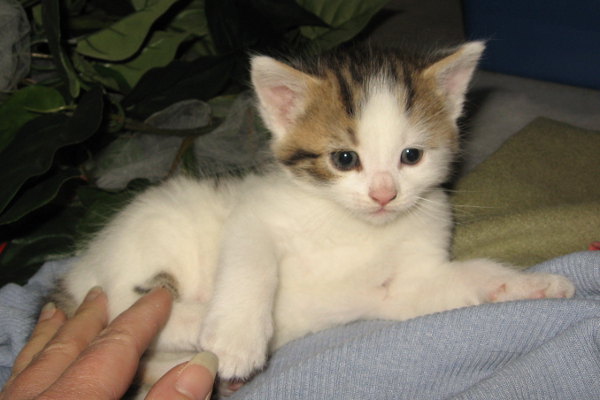 UPDATE 27 October:
Sadly, one of Bella's kittens wasn't strong enough to survive the first few weeks. However five kittens remain and mother cat Bella is doing a tremendous job.
Bella's Five have been named: Peppy, Jolly, Zippy, Zesty and Tiny. Here's the latest photos of these adoptable kittens… now almost 4 weeks of age:
UPDATE 11 October:
Bella, the mother of these six kittens, has been adopted by her foster mom. This is a "Cinderella" story for after what Bella has been through she deserves a safe, loving, attentive family that will care for her as the years go by.
Now the attention shifts to the search for forever homes for her little ones! They will be ready to leave their mother near the end of November. Perhaps one will be joining your family?
Check back soon, we'll post photos of their progress here when we can.
(Scroll down for our contact page if you would like more information)
—————————————–
Original Story:
Bella gave birth to six healthy kittens on Wednesday, October 2nd. She has proved to be a fantastic mom and the little ones are growing at a rapid rate.
This feline family is fortunate for, without the assistance of a local shop owner and her neighbor, Mother Bella would have been forced to fend for herself  in a desolate parking lot behind several retail stores. With winter coming on it is a foregone conclusion that some, or all, of the kittens would have perished.
Bella, herself, was virtually starving when she came to the attention of these good samaritans and it was quite a number of weeks before this shy, gentle feline warmed up to their kindly ministrations.
She has proved, in the long run, to be an affectionate and loving little kitty and we estimate her age to be around 1-1/2 years. Once the kittens have gone to their new, forever homes at eight weeks of age it will be time for Bella to claim a family of her own too.
———————————————-
If you would like more information about adopting a rescue pet, please contact Oasis at 289-385-6293, or complete and send this contact form:
I'd like to know more about adopting a pet from Oasis:
Please check you've entered your contact details correctly. When you press 'Submit', you will be redirected to our home page and a confirmation email will be sent to you - if not received in your inbox, please check your spam box. If applicable, please also specify the name of the animal you are enquiring about. Thank you.
Durham Region Cats For Adoption.
Durham Region Dogs For Adoption
How Your Donations Help The Pets At Oasis
Help our rescue pets find new homes – Please share our animal stories with your friends. Or subscribe here for free – receive pet updates straight to your inbox:

Oasis Animal Rescue – a non profit organization providing Durham Region society with humane animal rescue services – specializes in pet adoptions, re-homing and community outreach programs. Telephone 289-385-6293