UPDATE 12 April 2015:
Buttons' kittens are now seven weeks old and heading off to their forever homes next week:
UPDATE 8 April 2015:
Buttons has found her forever home with a single mom and her ten year old son who live in Toronto. There is also a fourteen week old kitten in the household so Buttons is going to have a feline playmate. She has settled in well and is especially fond of her new adoptive mom.
Congratulations to all.
———————————–
Two Surrogate Mothers Are Helping Buttons' To Raise Her Eight Kittens

4 Kittens being raised by Buttons (follow progress below on this page):  
Simeon (Passed Away), Eden (Adopted), Joshua (Adopted), Sassy (Adopted)

2 Kittens being raised by surrogate mom Rachel (click to follow their progress): 
Zeb (Adopted) and Benedict (Passed Away)

2 Kittens being raised by surrogate mom Jesse (click to follow their proress): 
Ruth (Adopted) and Tara (Adopted)
————————————
UPDATE 4 April 2015:
After several weeks of "touch & go", little Zeb is finally gaining weight. He is 1/3 the size of his six week old siblings but we believe now that he will survive.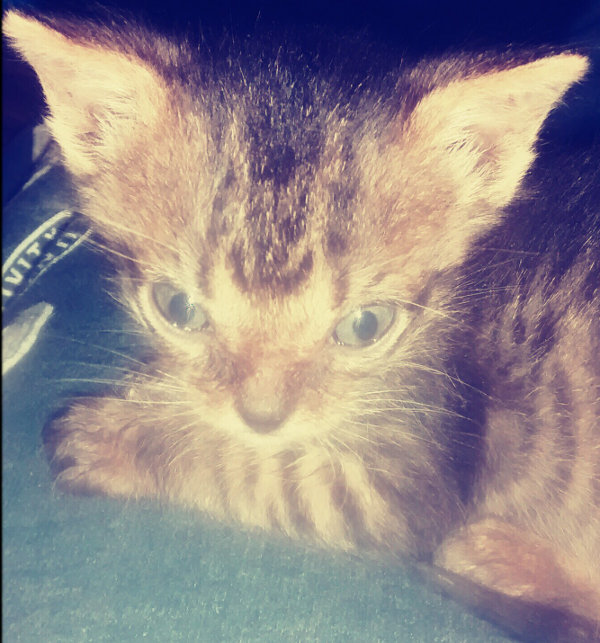 UPDATE 30 March 2015:
Awwwwwww…. Chillaxing kitten style! Joshua, Eden, Sassy and Tara, all getting some rest before joining the fun in their forever homes.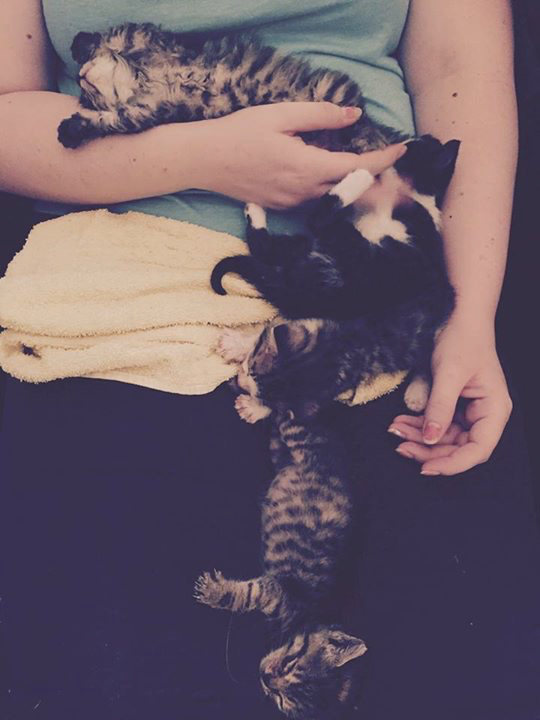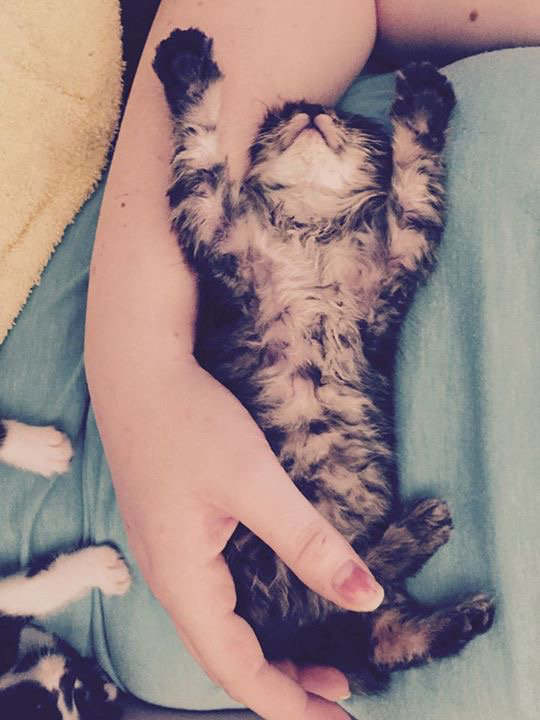 UPDATE 17 March 2015:
With sadness we announce that, this past weekend, both kittens Simeon and Benedict unfortunately passed away from "fading kitten" syndrome. We are doing our best to ensure that their siblings survive.
R.I.P. Simeon and Benedict.
UPDATE 9 March 9, 2015:
Sassy and Benedict have been adopted and that means…… all of Buttons' kittens have found forever homes… YAY!!
UPDATE 5 March, 2015:
Kitten Tara has now been adopted.
UPDATE 2 March, 2015:
Joshua has been adopted.
UPDATE 27 Feb, 2015:
Kittens Eden, Zeb and Ruth have been adopted.
Here are a few pics of Buttons with her kits at just seven days old: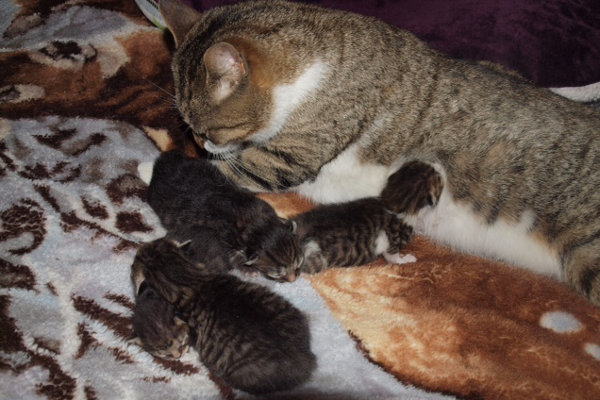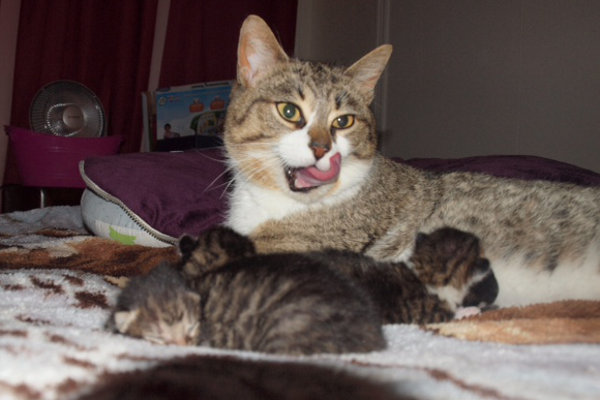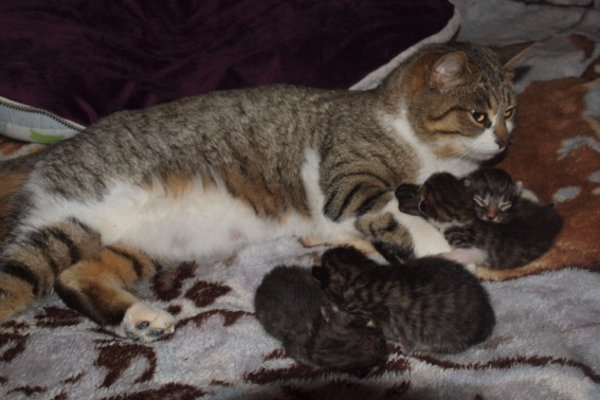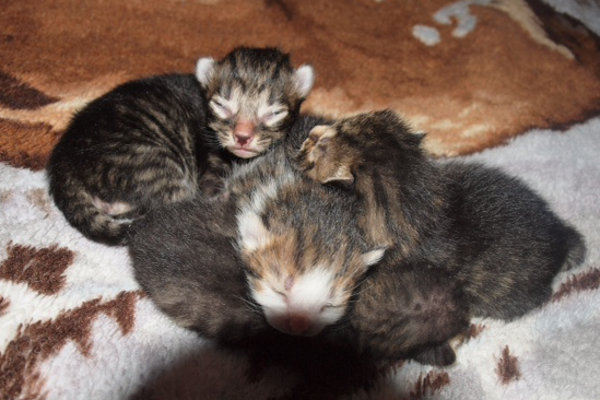 UPDATE 24 Feb, 2015:
Lucky Simeon is the first of Button's kittens to be adopted.
Congratulations. We're sure it won't be long till your litter mates find their forever homes too.
UPDATE 23 Feb, 2015:
Wow! Eight kittens is a lot for any new mother cat. Luckily, two recent mother cats have stepped up to the plate to help ensure all of the kittens have the very best chance of growing healthy and strong.
Rachel, who is still raising the four kittens that she gave birth to at the beginning of February, has become a surrogate mother for two of Buttons' kittens (Zeb & Benedict).
Jesse, also still with four kittens of her own born Feb 9, has also become a surrogate mother for another two of Buttons' kittens (Ruth & Tara).
It would have been very difficult for Buttons, at less than a year of age, to raise such a large litter on her own. It was clear she was overwhelmed and there was the very real risk she would reject all of the kittens. Four kittens, for a cat still really a kitten herself, is a much more manageable number and Buttons is clearly more comfortable with that.
We only ever want to hand-rear kittens as a last resort. Feeding formula instead of mother's milk increases the chances of the kittens perishing from diarrahea. Fortunately our rescue organization has been able to react and having access to other accepting nursing mothers, means all of the kittens will have the best chance to prosper and be ready to join forever homes in the third week of April.
Kittens Simeon, Eden, Joshua and Sassy are staying with Buttons.  Zeb and Benedict are being cared for by nursing mom Rachel and Ruth and Tara have settled well with Jesse.
—————————–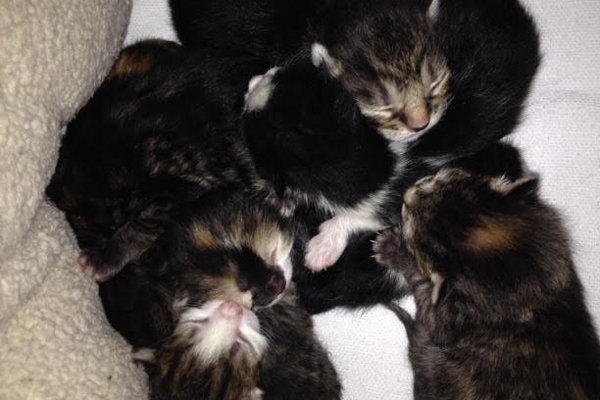 Let us introduce you to Simeon, Eden, Joshua, Sassy , Zeb, Benedict, Ruth and Tara. These tiny creatures were born to Buttons on Saturday, February 21st in a leaf bag placed under the back deck of a home in Ajax.
Thankfully the owner of this residence reached out to Oasis for help.
All eight kittens will be ready to go to their forever families during the third week in April.
———————————————-

———————————————-
If you would like more information about adopting a kitten please contact Oasis at 289-385-6293, or complete and send this contact form:
I'd like to know more about adopting a pet from Oasis:
Please check you've entered your contact details correctly. When you press 'Submit', you will be redirected to our home page and a confirmation email will be sent to you - if not received in your inbox, please check your spam box. If applicable, please also specify the name of the animal you are enquiring about. Thank you.
Durham Region Cats For Adoption.
Durham Region Dogs For Adoption
How Your Donations Help The Pets At Oasis
Help our rescue pets find new homes – Please share our animal stories with your friends. Or subscribe here for free – receive pet updates straight to your inbox:

Oasis Animal Rescue – a non profit organization providing Durham Region society with humane animal rescue services – specializes in pet adoptions, re-homing and community outreach programs. Telephone 289-385-6293
Subscribe To Our News Feed
You'll Get FREE Updates on Rescue Pets and Oasis Information sent direct to your inbox. (Oasis does not share your email address and you can unsubscribe at any time.)
Delivered by FeedBurner