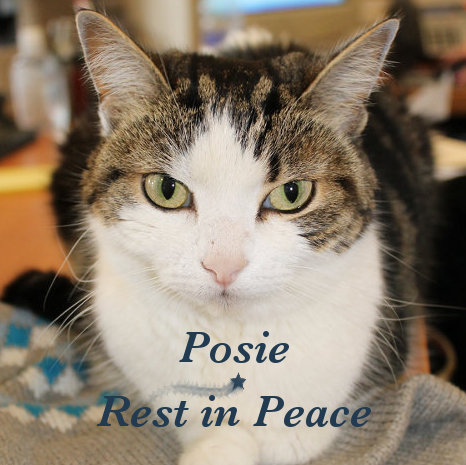 Sad News….
Posie left us yesterday to join our beloved Molly Cat on the other side of Heaven's Rainbow Bridge in the Sky.
She will be deeply missed by everyone on the Oasis team.
Posie was ill for several weeks and no tests could tell us what was wrong. We now know that she died as a result of a brain tumor.  How sad. This little lady had so much to give to a forever family and never had the chance.
In her last days Posie was surrounded by an abundance of love in her foster home. I only wish we could have kept her with us.
Rest in peace precious angel.  You are in our thoughts.
—————————————————-
When Posie arrived at Oasis:
Posie is a little princess who literally demands attention. This gal loves hopping up on your shoulder to be as close as possible to the human being who is lavishing affection upon her! The perfect cat for a draughty house, no? 🙂
At four years of age, Posie is declawed, spayed and up-to-date on her vaccinations.
Posie lived with a senior couple who, unfortunately, could no longer offer her a long term home. It was decided, with the help and support of a local vet's clinic, that she find her way to Oasis.
Posie is adored by her foster parents and co-exists quite amicably with the other cats in her temporary household. She would, however, much prefer to be the only feline in her new forever home.