UPDATE 19 June:
Kennedy is very excited today… she's been adopted. The only kitten remaining from Daisy's litter, we think she was feeling a bit left out after her siblings left. But all's well that end's well, she's happy now and the wait was worth it!
Best of luck in your new home Kennedy, from your friends here at Oasis Animal Rescue.
UPDATE 4 June:
Another one of Daisy's kittens has been adopted: Casey has found a forever home – YAY!!
Kennedy is now the only kitten for adoption remaining from Daisy's litter and you can find out more about adopting her by calling us at 289-385-6293 or scroll down for our contact form.
UPDATE 31 May:
Yikes!! These guys are growing like crazy!! Check out the most recent photos of Daisy's kittens below.
Two of Daisy's kittens have found homes…. two are still looking (ie. the white kittens: Casey and Kennedy).
If you're interested in adopting one of these kittens or any of the other pets for adoption at Oasis Animal Rescue – scroll down for our contact form on this page, or call 289-385-6293 during normal business hours.
————————————————-
UPDATE 27 May:
Two of Daisy's kittens have found their forever home together… Nelly and Avery have been adopted. Isn't that great? Loving home… get to stay together…. Love when that happens, don't you?
White kittens Casey and Kennedy are still hopeful that they will find new homes soon too. If you're thinking of adopting a kitten, and would like to arrange to meet Casey / Kennedy, please call us at 289-385-6293 or scroll down for our contact form.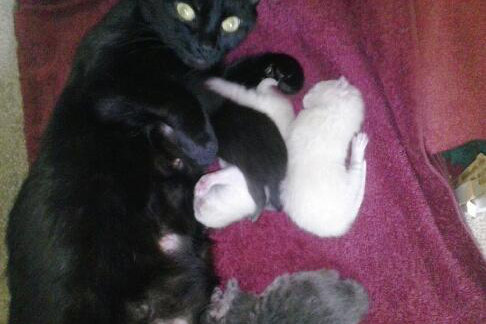 Original Story:
Daisy gave birth to four kittens on April 28th and they've been given the names Nelly, Casey, Avery and Kennedy.
Daisy's owner acquired her from a gentleman who was advertising on Kijiji. No mention was made of a potential pregnancy but, as the cat grew bigger and bigger, it was quite evident that kittens were on the way.
These gorgeous little kits will be ready to go to their forever homes on June 24th.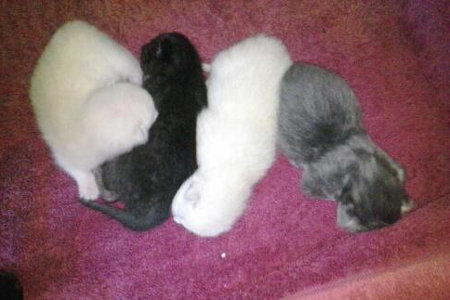 ———————————————-
If you would like more information about adopting a rescue pet please contact Oasis at 289-385-6293, or complete and send this contact form:
I'd like to know more about adopting a pet from Oasis:
Please check you've entered your contact details correctly. When you press 'Submit', you will be redirected to our home page and a confirmation email will be sent to you - if not received in your inbox, please check your spam box. If applicable, please also specify the name of the animal you are enquiring about. Thank you.
Durham Region Cats For Adoption.
Durham Region Dogs For Adoption
How Your Donations Help The Pets At Oasis
Have fun – Draw your own animal rescue themed Doodle.
Help our rescue pets find new homes – Please share our animal stories with your friends. Or subscribe here for free – receive pet updates straight to your inbox:

Oasis Animal Rescue – a non profit organization providing Durham Region society with humane animal rescue services – specializes in pet adoptions, re-homing and community outreach programs. Telephone 289-385-6293