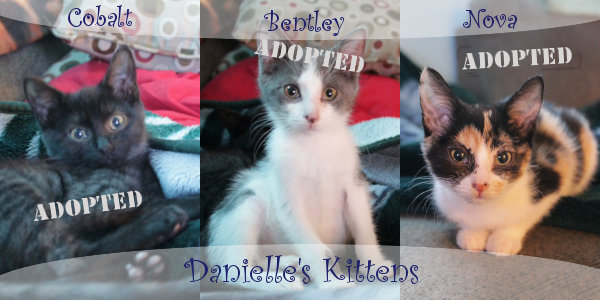 UPDATE 12th January 2015:
At long last our little Nova has found her forever home. Whoopee!! Her new family is comprised of a couple and two young daughters. This little gal will be the only pet in the household so will be the beneficiary of the undivided attention of one and all. So fitting for a feline who has been waiting so long for a place to call her own.
Congratulations Nova and all the very best in your new home.
UPDATE 20th October, 2014:
Nova is still searching for her forever home. She is now 14 months of age and up-to-date on all vaccinations.
Candid Comments From Nova's Foster Mom

Nova (aka "Nosey Nova") absolutely LOVES being brushed. Second only to this pleasure is snuggling up with her humans in bed, under the covers, and wedging herself behind whatever legs are readily available. Wet food as a treat, Cat Nip, Flakes of Chicken and Temptation treats are all favourites with little Nova and playing with a laser light, a cat toy that bounces or string on a stick are pastimes which give her great pleasure. Nova presently shares her foster home with a feline buddy called Rain. These two are the very best of friends and it is hoped that they can be adopted together.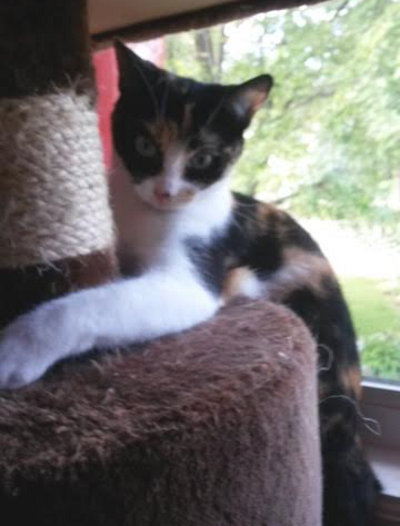 ———————————-
UPDATE 20th May, 2014:
Cobalt has been adopted by a couple and their two children who live in Oshawa. The dad in the family is a longtime friend of Cobalt's foster father and literally fell in love with the kitten at first sight. Cobalt, apparently, felt the same way. Seems like a match made in heaven!!
Best wishes to you and your new family Cobalt.
Nova, the only remaining kitten from Danielle's litter (photos below), is hoping to soon find her forever home too. If you are considering adopting a kitten, please consider Nova and contact Oasis at 289-385-6293 (or scroll down for our online contact form).
———————————————–
UPDATE 6th May, 2014:
Bentley has found his forever home in North Oshawa with a single, young woman whose sole intent is to shower him with lots of love, toys and treats. His new owner has strong ties to her family so Bentley can expect to be the recipient of lots of attention from other family members as well.
Congratulations Bentley and all the best in your new home.
Cobalt and Nova continue their search for forever homes. If you are considering adopting a pet, please contact Oasis Animal Rescue on 289-385-6293 or scroll down this page for our online contact form.
UPDATE 7th April, 2014:
Bentley and Cobalt, now 7 months of age, have now both been neutered.
————————————-
Testimonial from Cobalt and Bentley's Foster Mom:
If you are looking for an affectionate, well behaved and the most loveable 2 kitties, these are them.  Both have their own little personalities and both are so good.  I have fostered them for approx. 2 months and they have been a pure joy to me.

Cobalt has learned to play fetch with his ball and Bentley loves his yellow toy spring.  They will both snuggle up to you and sleep through the night and on the couch.  They both are fascinated with water…from the kitchen tap, not so much from the bathroom tub!

They deserve a special home because they are themselves, so special.  Please give them a good forever home.
UPDATE 30 January:
Nova couldn't help but pose for the camera….(Cobalt and Bentley were a little shy today).
UPDATE 10 January:
Momma cat Danielle has been adopted. Her new mom is a career woman in downtown Toronto who has another twelve year old cat. Both felines have a lovely, large home in which to roam and are destined to be spoiled rotten. Lucky Danielle. She has finally landed with an individual who will love and cherish her for many, many years to come.
Danielle kittens though are still searching for forever homes. If you are interested in adopting Cobalt, Bentley or Nova, please contact us at 289-385-6293 or scroll down for our contact form.
UPDATE 25 November:
The search for permanent homes for Danielle and for her three kittens – Nova, Bentley and Cobalt – continues. These three cuties are now 12 weeks of age. Momma cat Danielle has now been spayed and is up-to-date on all her vaccinations.
If you would like more information on adopting Danielle or one of Danielle's kittens, call us today at 289-385-6293 or scroll down for our contact form at the bottom of this page.
——————————————–
UPDATE 26 September:
Here are the latest photos of Danielle's kittens. They'll soon be ready to leave their mother. All three (Nova, Bentley and Cobalt) are still searching for new homes.
Contact us at 289-385-6293 to find out more about adopting one of Danielle's kittens, or scroll down to the bottom of the page for our contact form.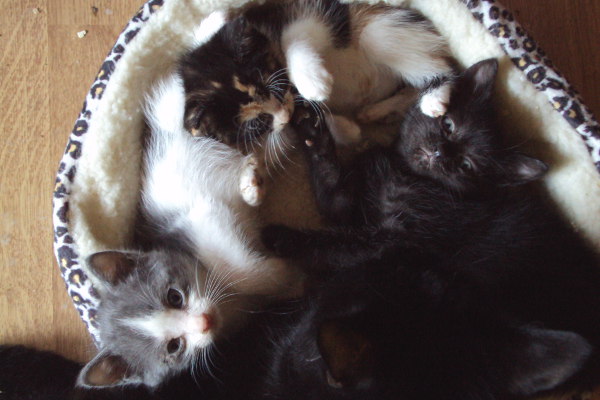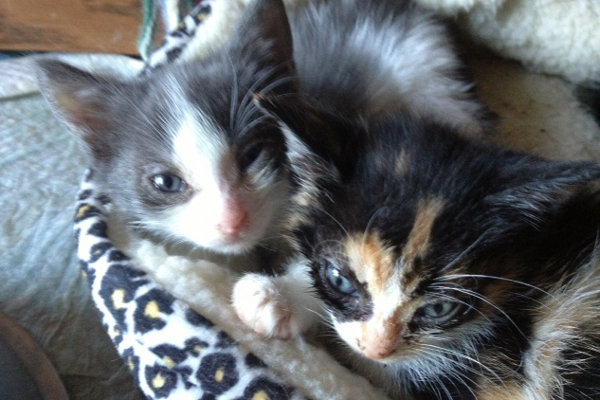 ———————————-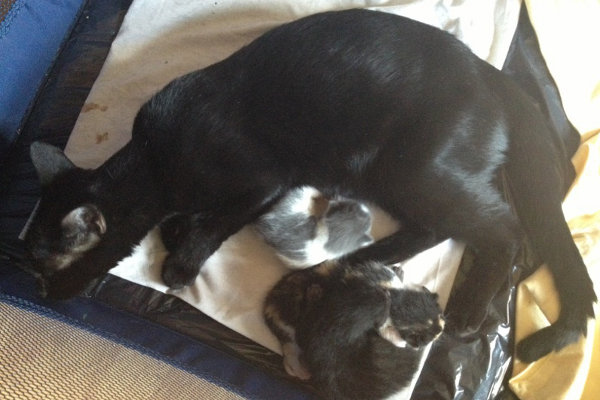 Abandoned on the doorstep of Oasis in the early hours of a Tuesday morning, Danielle and her three kittens are now being cared for in a foster home and thriving.
The little ones have been named Bentley, Nova and Cobalt.
Danielle is an exceptionally good mom and will, no doubt, miss her kittens when they go to their new homes in early October.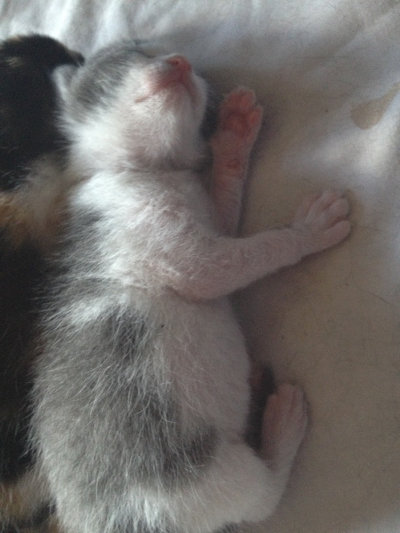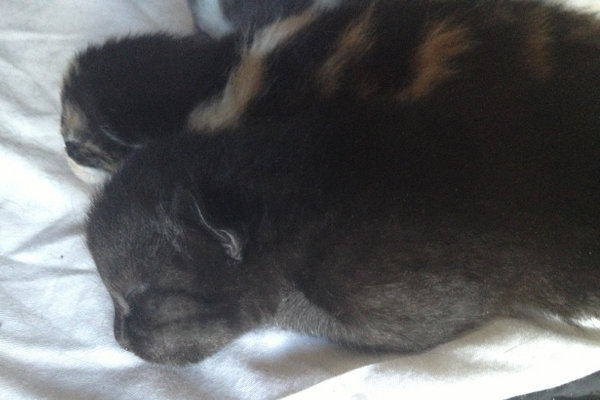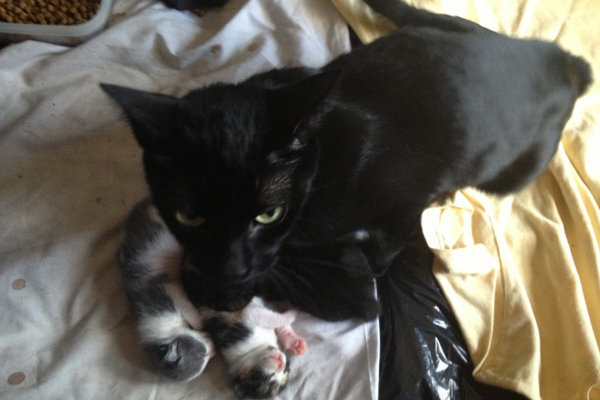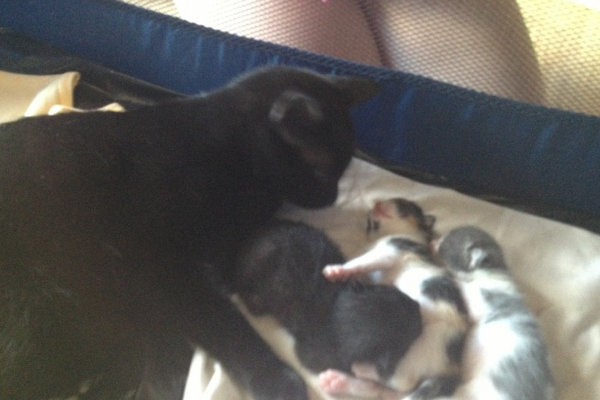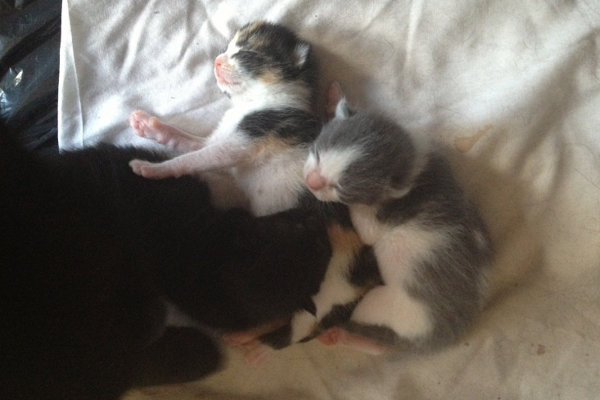 ———————————————-
If you would like more information about adopting a pet please contact Oasis at 289-385-6293, or complete and send this contact form:
I'd like to know more about adopting a pet from Oasis:
Please check you've entered your contact details correctly. When you press 'Submit', you will be redirected to our home page and a confirmation email will be sent to you - if not received in your inbox, please check your spam box. If applicable, please also specify the name of the animal you are enquiring about. Thank you.
Durham Region Cats For Adoption.
Durham Region Dogs For Adoption
How Your Donations Help The Pets At Oasis
Help our rescue pets find new homes – Please share our animal stories with your friends. Or subscribe here for free – receive pet updates straight to your inbox:

Oasis Animal Rescue – a non profit organization providing Durham Region society with humane animal rescue services – specializes in pet adoptions, re-homing and community outreach programs.