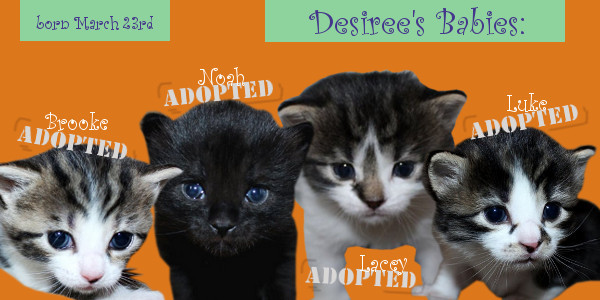 UPDATE 11 July:
YAAAAAAAAAYYY!!! Excuse us for getting excited, but we're delighted to announce that our little friends Luke and Brooke, two kittens born to Desiree have found their forever home!
Luke and Brooke have been adopted together by a senior Durham Region woman (who also volunteers her time to caring for pets in need at Oasis). They will be living just a few minutes away from the woman's daughter and grandchildren, so Luke and Brooke are going to have lots of play pals popping by regularly for a visit.
Congratulations to both Luke and Brooke. Best wishes from all of your friends here at Oasis – it was great getting to know you, but we're sooooooo happy you've found your forever home!
—————————————————————
UPDATE 15 June:
New photos just in of Brooke and Luke:
UPDATE 25 April:
One of Desiree's kittens, Lacey, was adopted early last week. Now, we're happy to say that her brother Noah has also been selected to join a woman and her granddaughter who live in Barrie. There is an older cat in the household who is fairly laid back so will, no doubt, accept the whirling ball of energy we call Noah in good stride.
Brooke and Luke are still looking for their forever homes!
—————————————-
Original Story:
Momma cat Desiree, who has been in pet foster care, delivered four kittens on the 23rd of March and naturally Oasis is doing all we can do to find homes for the whole family. Thankfully Desiree herself has already been adopted by her foster mom.
The four kittens for adoption are mega-cute and will be ready to go to forever homes around the 20th of May. Hopefully there will be families waiting to welcome them into their homes at that time. Meet the four little ones:
1.
Brooke

– Female (all white nose) – ADOPTED
2.

Lacey

– Female (all brown nose) – ADOPTED
3.

Luke

– Male (brown spots on face) – ADOPTED
4.

Noah

– Male (all black) – ADOPTED

Contact us at Oasis today for more information about adopting one of these kittens. You can use the form below or call us at 289-385-6293 during business hours.

———————————————-

If you would like more information about adopting a rescue pet please contact Oasis at 289-385-6293, or complete and send this contact form:
I'd like to know more about adopting a pet from Oasis:
Please check you've entered your contact details correctly. When you press 'Submit', you will be redirected to our home page and a confirmation email will be sent to you - if not received in your inbox, please check your spam box. If applicable, please also specify the name of the animal you are enquiring about. Thank you.
Durham Region Cats For Adoption.
Durham Region Dogs For Adoption
How Your Donations Help The Pets At Oasis
Help our rescue pets find new homes – Please share our animal stories with your friends. Or subscribe here for free – receive pet updates straight to your inbox:

Oasis Animal Rescue – a non profit organization providing Durham Region society with humane animal rescue services – specializes in pet adoptions, re-homing and community outreach programs. Telephone 289-385-6293