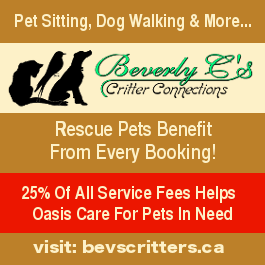 Now, when you book pet sitting, dog walking or special pet care services through Beverly Cs Critter Connections, Durham Region, you'll also be supporting the pets in care at Oasis Animal Rescue.
25% of all service fees will be directed towards caring for the pets in need at Oasis.
Beverly Cs Critter Connection provides a complete range of customized services for domestic pets and their owners in Oshawa, Whitby, Ajax, Pickering, Bowmanville, Clarington and Brooklin.
From dog walking to pet sitting to pet taxi, dog training or Reiki massage, the team is dedicated to ensuring your pet's health and well-being gets top priority. Beverly Cs is fully bonded and insured and all of team members are Pet First Aid Certified.

Beverly Cs team members have extensive experience with animals of all kinds and much of their experience has been gained as volunteers or staff with pet rescue organizations. Dedicated to the pets in our lives and through their pet rescue experience, the Beverly Cs team members are also dedicated to supporting members of the community, especially elderly pet owners, to be able to keep and care for their important and beloved pet companions.
With the team's dedicated background in pet care, health and pet rescue, you won't be surprised to learn that 25% of income generated from all of their pet care services is directed to benefit the domestic pets in care at Oasis Animal Rescue And Education Center.
————————————————