UPDATE 6 August:
Congratulations Flossie! You'll be pleased to hear that Flossie has found her forever home. Flossie came to Oasis back in May as a young mom with four kittens: Night, Callisto, Mojo and Jubilee.  Her foster mom, who helped her with the kittens until they all found new homes, has been actively searching for Flossie's permanent home alongside Oasis and has managed to find the perfect place for gorgeous Flossie.
Best wishes Flossie, from all of us. Enjoy your new home!
UPDATE 19 July: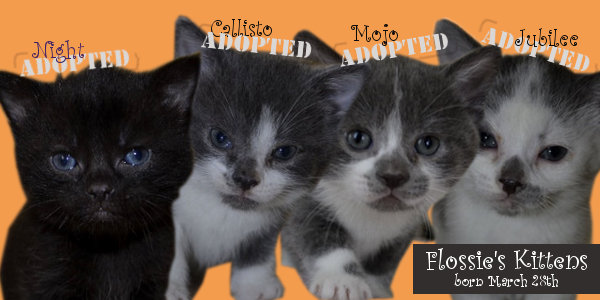 Great News! Flossie's two remaining kittens – Night and Callisto – were adopted together into a home where there is another cat and a rabbit who has the run of the house. A young couple spotted the pair at an "out of office" event last week-end and immediately decided to enlarge their family.
Have fun kids!
The gorgeous Flossie is still looking for a forever home – so if you are interested, please contact us at 289-385-6293 (or scroll down for our contact form).
UPDATE 11 June:
Two of Flossie's kittens have found new homes. Isn't that great? Jubilee and Mojo are on the gogo to join their new families. Congratulations kits.
Callisto and Night are still looking for homes, as is momma cat Flossie. If you'd like to know more about adopting Flossie or Callisto or Night, please give us a call at 289-385-6293 or scroll down for our contact form.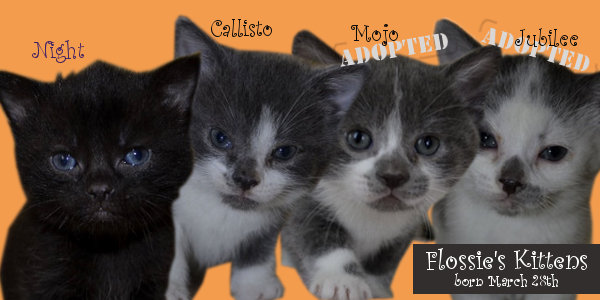 ———————————————
Original Story:
Flossie, at just twelve months of age, is Isabella's daughter from a 2012 litter.
Flossie is still a kitten herself in many ways but she's currently in foster care after producing four kittens named: Night, Jubilee, Callisto and Mojo (below). Callisto is the only male in this little family.
Once her little ones, who were born March 28th, are placed in their new homes on May 27th she will be spayed.
———————————————-
If you would like more information about adopting a rescue pet please contact Oasis at 289-385-6293, or complete and send this contact form:
I'd like to know more about adopting a pet from Oasis:
Please check you've entered your contact details correctly. When you press 'Submit', you will be redirected to our home page and a confirmation email will be sent to you - if not received in your inbox, please check your spam box. If applicable, please also specify the name of the animal you are enquiring about. Thank you.
Durham Region Cats For Adoption.
Durham Region Dogs For Adoption
How Your Donations Help The Pets At Oasis
Help our rescue pets find new homes – Please share our animal stories with your friends. Or subscribe here for free – receive pet updates straight to your inbox:

Oasis Animal Rescue – a non profit organization providing Durham Region society with humane animal rescue services – specializes in pet adoptions, re-homing and community outreach programs. Telephone 289-385-6293