Nugget Finds His Forever Home
UPDATE:
We're so happy!! Nugget has finally found his forever home.
A trusted and competent Oasis volunteer and her two sons have welcomed golden Nugget with open arms. His new household contains a cat and a little dog called Oliver. We have heard nothing but glowing reports on his progress over the past three days.
After a rough life and an uncertain future, Nugget will now be safe, cared for, and best of all… loved! YAY!!!
Congratulations Nugget, to you and to your new family.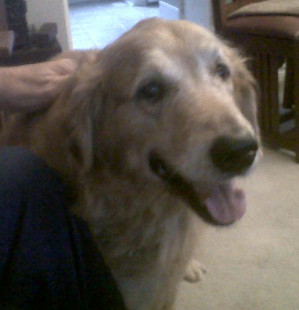 Original Text:
When it was suggested that Nugget – this neglected eight year old Golden Retriever – should be euthanized rather than spend a lot of money on urgent vet care, we knew right away that he was going to need lots of help to win back his health.
In fact…. he's going to need a team of loyal supporters!!
Nugget Needs A Team Of Supporters!
He's had a rough life, but with your help we can get Nugget the care he needs right now and (fingers crossed) a loving forever home when he's better.
Nugget was rescued from an abusive situation four months ago by a caring man with all the best intentions. However, his rescuer was not really in the best position to care for Nugget and unfortunately the man has passed away leaving Nugget with absolutely no one.

Nugget had been left alone for days on end in an empty apartment and his condition when the Oasis team met him broke our hearts. So far we've been able to find him a safe, temporary foster home and arrange an immediate visit with our veterinarian.

Blood tests have been taken as the vet suspects Nugget may be diabetic or worse, have cancer. He is extremely overweight, having been fed a garbage diet and has limited sight in one eye due to infection or a potential cataract. His teeth are a terrible mess and for a currently unknown reason, his tail is swollen to about three times its normal size. There is a very real risk that it will require amputation.

<
If you'd just like to be kept up-to-date on the progress of Nugget and the stories of other pets being helped by Oasis Animal Rescue…please click on the box below and simply enter and confirm your email. (We keep all of your contact information private.)
On behalf of Nugget – thank you so much.
Please share Nugget's story with your friends.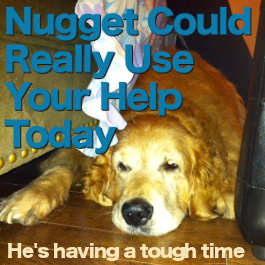 Nugget Enjoying His Temporary Foster Home: