UPDATE 20 March, 2015:
Jessie has been adopted by an Oshawa couple who were desperately missing the presence of a feline in their household after losing a beloved cat to illness in 2014. Her kittens will be headed to their new homes by March 28th and then this little lady will be ready to take up residence with her new owners.
UPDATE 15 March, 2015:
Jesse's older kittens (all adopted) are looking good at 5 weeks of age now:
UPDATE 5 March 2015:
Tara has now found a forever home. All of Rachel's kittens have now been adopted.
UPDATE 25 Feb, 2015:
Jesse has become a great surrogate mother to Ruth and Tara.
Ruth has already found a forever home. We don't think it will be long before Tara finds one too. Scroll down for our contact form if you are interested in adopting Tara.
UPDATE 24 Feb, 2015:
Wow, don't Jesse's older kittens look great – all have been adopted – YAY!
Of course, she's still looking after two younger ones – Ruth and Tara from Buttons' litter. Scroll down for our contact form below if you are interested in adopting a kitten:
UPDATE 23 Feb,2015:
Kittens Ruth and Tara join new mom Jesse.
Jesse has accepted  a new role as surrogate mother for two kittens from a large litter of eight born to young, first-time mother Buttons. With her help, little Ruth and Tara have the very best chance of growing strong and healthy.
We'll update you soon on their progress. In the meantime, if you'd like to discuss adopting Ruth and/or Tara, please scroll down for our contact form.
———————————
 UPDATE 18 Feb, 2015:
The kittens, Sandy, Cali, Marshmallow and Joey have all been adopted. Whoopee!!
Congratulations one and all!
Momma cat Jesse though is still seeking to join a permanent home once her mothering duties are done. Please contact us if you are able to offer a loving home to Jesse.
—————————————–
Please meet Sandy, Cali, Marshmallow and Joey. These little ones were born on February 9th in the basement of a home in Durham Region.
Their mother, Jesse, living in deplorable conditions, was rescued (with her litter) by the staff of a local veterinary clinic and placed in the care of Oasis.
All four kittens will be ready to head off to their forever homes in mid April. Adoption applications are being accepted now.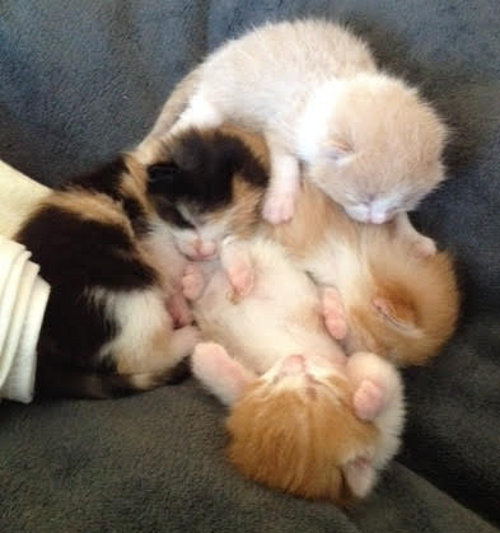 ———————————————-

———————————————-
If you would like more information about adopting Jesse or one of her kittens please contact Oasis at 289-385-6293, or complete and send this contact form:
I'd like to know more about adopting a pet from Oasis:
Please check you've entered your contact details correctly. When you press 'Submit', you will be redirected to our home page and a confirmation email will be sent to you - if not received in your inbox, please check your spam box. If applicable, please also specify the name of the animal you are enquiring about. Thank you.
Durham Region Cats For Adoption.
Durham Region Dogs For Adoption
How Your Donations Help The Pets At Oasis
Help our rescue pets find new homes – Please share our animal stories with your friends. Or subscribe here for free – receive pet updates straight to your inbox:

Oasis Animal Rescue – a non profit organization providing Durham Region society with humane animal rescue services – specializes in pet adoptions, re-homing and community outreach programs. Telephone 289-385-6293
Subscribe To Our News Feed
You'll Get FREE Updates on Rescue Pets and Oasis Information sent direct to your inbox. (Oasis does not share your email address and you can unsubscribe at any time.)
Delivered by FeedBurner