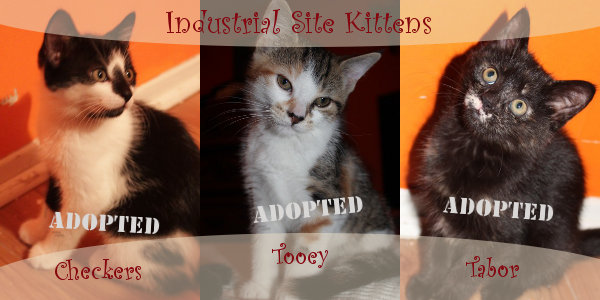 UPDATE 19 December, 2014:
Happily we can announce that Tooey has found her forever home. She is now the well loved pet of a soft spoken young man who lives in a spacious apartment in Oshawa. We are thrilled for her.
UPDATE 5 December:
Tabor has found a wonderful, lakefront home in Durham Region with a family of two sisters and their elderly mom. This little gal will have the undivided attention of all three when it comes to pats, treats and toys.
Congratulations Tabor and best wishes from all your friends at Oasis.
Tooey is still searching for a permanent home. Perhaps yours???? Scroll down for our online contact form if you're interested in adopting a pet.
——————————————-
UPDATE 19 June:
Just shy of 10 months of age, lovely little Checkers has been adopted by the same family who welcomed Jordan a few months ago. Jordan was very lonely in a single cat household (having lived with quite a few feline companions in his previous foster home) and the decision was made to find him a buddy. We believe Checkers is the perfect choice!!
Congratulations Checkers. Enjoy your new home.
Tooey and Tabor are still available for adoption. Please contact Oasis at 289-385-6293 or scroll down for our online contact form.
————————————-
UPDATE 30 January;
Checkers, Tooey and Tabor are still searching for forever homes. Here's their latest photos. Contact us at 289-385-6293 or scroll down for our online contact form to arrange to meet them.
UPDATE 14 October:
First Tat, and now Talis has been adopted. YAY!! Talis will be going to live with a family in Ottawa!! Congratulations.
Checkers (now neutered), Tooey and Tabor are still hopeful they will find homes too. If you're interested in meeting one of them, contact us for information at 289-385-6293.
UPDATE 11 October:
Congratulations to little Tat – the first of our "Industrial" kittens to find a forever home match. Tat has been adopted by a local Oshawa woman who already has a cat called "OhOh". She is thrilled to add a dynamic kitten to her family and is anxiously awaiting the day that the little one arrives.
Tooey, Tabor, Talis and Checkers continue their search for the loving homes. If you are interested in adopting a kitten, please contact us for information at 289-385-6293, or scroll down for our contact page.
———————————————–
Original Story:
These five kittens were born on Labour Day, September 1st. Fortunately for them, a kind member of the community rescued their very pregnant mother (named Trussie) from giving birth and raising tiny kittens on a dangerous industrial site.
Concerned for Trussie's safety and the future safety of Trussie's soon to be born kittens (the site regularly has large trucks coming and going and lots of heavy equipment being moved around!!) this caring person provided Trussie with a safe environment, helped her through the final stages of her pregnancy, the delivery of her five kittens and their important first weeks of life.
Safe from harm, Trussie has been a wonderful mother and her kittens are growing well. These socialized pets will each soon be ready to join a forever home. Contact us to discuss adopting a kitten at 289-385-6293 or scroll down for our online contact form.
Meet Tooey, Tabor, Talis, Checkers and Tat:
———————————————-
If you would like more information about adopting one of Trussie's kittens please contact Oasis at 289-385-6293, or complete and send this contact form:
I'd like to know more about adopting a pet from Oasis:
Please check you've entered your contact details correctly. When you press 'Submit', you will be redirected to our home page and a confirmation email will be sent to you - if not received in your inbox, please check your spam box. If applicable, please also specify the name of the animal you are enquiring about. Thank you.
Durham Region Cats For Adoption.
Durham Region Dogs For Adoption
How Your Donations Help The Pets At Oasis
Help our rescue pets find new homes – Please share our animal stories with your friends. Or subscribe here for free – receive pet updates straight to your inbox:

Oasis Animal Rescue – a non profit organization providing Durham Region society with humane animal rescue services – specializes in pet adoptions, re-homing and community outreach programs. Telephone 289-385-6293