UPDATE 6 August:
Thanks to Isabella's foster mom, a permanent home has now also been found for 'Bella'. She came to us with her four kittens and was placed in foster care earlier in the year. Now, thankfully, all the kittens and mom too, are relaxing, playing and having a grand old time with their new families. Better than life on the streets, that's for sure!
All the best Bella. Congrats and best wishes in your new home.
UPDATE 25 June:
Well little MacIver doesn't have to worry about being without a family any more. She's been permanently adopted by the same young lady in Toronto who had already adopted MacDuff from this litter.
Congratulations MacIver, have fun with your new mom and it's great to know you'll be living with your sister too.
Mother cat Isabella is available for adoption now that all her kittens have found homes. Contact us for more info about Isabella – scroll down for our contact page or call 289-385-6293.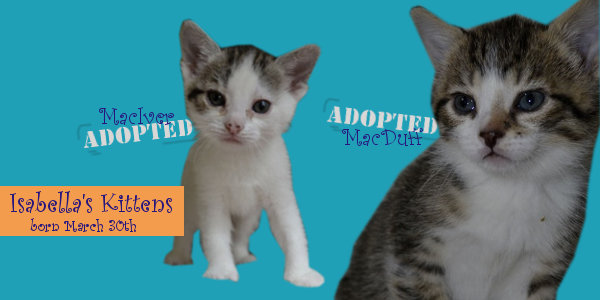 ——————————————————
UPDATE 27 May:
More great news… MacDuff has found a new home too. MacDuff will be going to live with a young lady in Toronto who is very excited about her new kitten. Best wishes to MacDuff from your friends at Oasis Animal Rescue.
MacIver is still looking for a new home, as is momma cat Isabella. If you'd like to arrange a to meet one of them, please contact us at 289-385-6293 or scroll down for our contact form.
UPDATE 10 May:
Great News….Two of Isabella's kittens – Wallace (female) and MacEwan (female) have been reserved.
MacDuff and MacIver are still searching for new homes to go to when they are ready to leave their mother.
—————————————
Original Story
Isabella is the two year old mother of four kittens we've named after Scottish Clan Tartans: MacDuff, MacEwan, MacIver and Wallace. (Because they all look similar but are sporting different patterns – just like tartan!)
'Bella' herself, was born to a mother who was thrown into a dumpster and covered with debris. Luckily a kind member of the community rescued her. However Bella soon started her own little dynasty: this is the third litter born to this rescue cat and, fortunately, will be the last.
Bella's kittens (below) were born on March 30th and Bella and her babies will be ready to go to their new homes after May 27th.
———————————————-
If you would like more information about adopting a rescue pet  please contact Oasis at 289-385-6293, or complete and send this contact form:
I'd like to know more about adopting a pet from Oasis:
Please check you've entered your contact details correctly. When you press 'Submit', you will be redirected to our home page and a confirmation email will be sent to you - if not received in your inbox, please check your spam box. If applicable, please also specify the name of the animal you are enquiring about. Thank you.
Durham Region Cats For Adoption.
Durham Region Dogs For Adoption
How Your Donations Help The Pets At Oasis
Help our rescue pets find new homes – Please share our animal stories with your friends. Or subscribe here for free – receive pet updates straight to your inbox:

Oasis Animal Rescue – a non profit organization providing Durham Region society with humane animal rescue services – specializes in pet adoptions, re-homing and community outreach programs. Telephone 289-385-6293