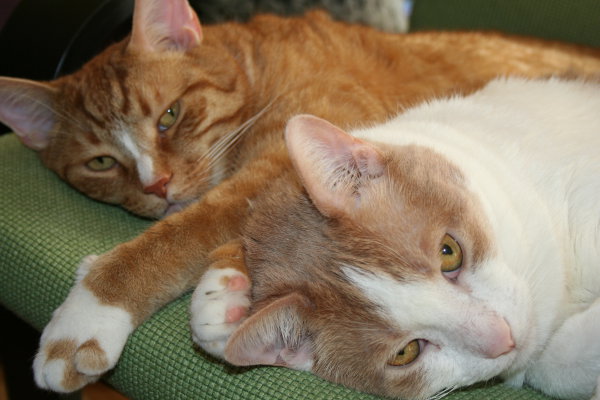 UPDATE 1 July:
Good news. Like Monty before him, Joey has now been adopted too!
Joey's new "dad" is in the culinary arts business so this fortunate cat will, no doubt, enjoy the finest cuisine available to a feline. How lucky can you get?
Congratulations Joey from your good friends at Oasis Animal Rescue. Enjoy!
———————————————-
UPDATE 10 May:
Well, boys Joey and Monty have been on Oasis' adoption list for a few months. When they first started looking for a new home they were inseparable – they'd lived a long time together. However, with all the cats and people visiting the Oasis office or at their foster home, they quickly became less dependent on each other – which is wonderful because when that happens it increases the chances for both of them to be adopted.
Recently, a young boy met Monty and the two of them hit it off right from the start. The boy's family agreed that adoption was possible and, full of excitement, the young boy visited Monty every day until our standard home visit could be arranged and the adoption was finalized.  So congratulations Monty. We know you are going to a home where you will be absolutely adored and we couldn't be happier for you.
Joey is currently still on the adoption list. But with his great looks and his great personality, he will without doubt find his perfect home too.
If you would like to meet Joey, please contact us at 289-385-6293 or scroll down for our contact form.
Original Story
Joey and Monty are best friends. At five and seven years of age respectively both are neutered and up-to-date on their vaccinations.
A member of their present family has developed severe allergies to these lovely boys and unfortunately the only solution is to find them a new home together.
Joey, being the younger of the pair, is extremely playful and revels in being the centre of attention.
Monty, on the other hand,  is much more laid back, enjoys being brushed and loves nothing better than an affectionate cuddle.
Both cats have been exposed to dogs so would not be adverse to having a friendly canine in their new forever home.
———————————————-
If you would like more information about adopting a rescue pet please contact Oasis at 289-385-6293, or complete and send this contact form:
I'd like to know more about adopting a pet from Oasis:
Please check you've entered your contact details correctly. When you press 'Submit', you will be redirected to our home page and a confirmation email will be sent to you - if not received in your inbox, please check your spam box. If applicable, please also specify the name of the animal you are enquiring about. Thank you.
Can you offer a temporary foster home to a pet in need?
Durham Region Cats For Adoption.
Durham Region Dogs For Adoption
Help our rescue pets find new homes – Please share our animal stories with your friends. Or subscribe here for free – receive pet updates straight to your inbox:

Oasis Animal Rescue – a non profit organization providing Durham Region society with humane animal rescue services – specializes in pet adoptions, re-homing and community outreach programs. Telephone 289-385-6293