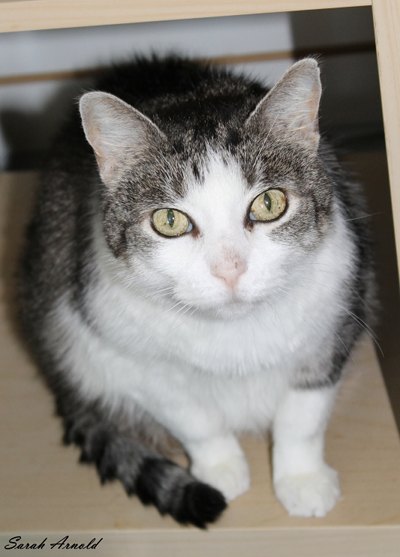 UPDATE:
Remember Kikie. She was the rescue cat that was originally discovered in a hotel cupboard and delivered to Oasis in a laundry basket back in May of this year!!
Well, Oasis has managed to find a great forever home and she's been permanently adopted. Kikie now living comfortably in a new home with a woman and her two young sons. They'll keep her occupied, that's for sure, but in her new home Kikie will also be living with another cat, so she'll have a friend to roam the house with, keeping watch while the kids are asleep.
Have fun Kikie. It was great to meet you – and we're pretty positive you won't be left behind in a hotel cupboard ever again.
ORIGINAL TEXT:
Kikie, a brown, white and grey beauty, came to Oasis in a laundry basket. The individual who turned up on our doorstep with her indicated that this shy, affectionate little feline was discovered in a hotel cupboard having obviously been abandoned.
What a horrible thing to do to such a lovely cat.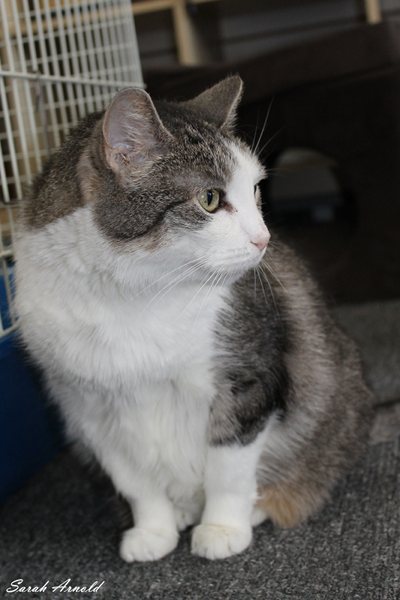 Kikie is spayed, up-to-date on all of her vaccinations and eager to find her new forever home.
Presently in a foster home with other cats, it is quite evident that Kikie will adjust well to a multi-cat household but would, no doubt, be perfectly fine on her own.
———————————————-
See more cats hoping to be adopted soon.
See dogs seeking their forever homes.
Perhaps someone in your social network is interested in cat adoption.
Help Kikie find a new home – please feel free to use the tools below and share this rescue cat with your friends. Or subscribe to follow her story: