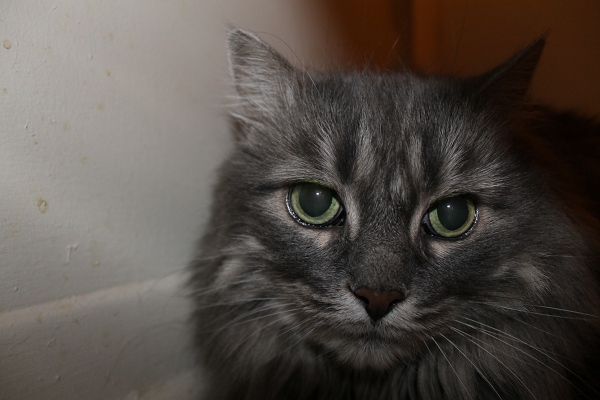 UPDATE:
We're sorry to report that Lady Grey unexpectedly passed away June 3rd due to liver failure.
Besides being only eight years young, what makes this event particularly sad is that Lady Grey was still on the adoption list, so unfortunately she never got to enjoy the love, attention and comfort she would no doubt have received in a new forever home.
R.I.P. Lady Grey, from all of your friends at Oasis Animal Rescue.
Original Text:
Lady Grey, a lovely "Rag Doll" cat with large expressive eyes and a deep gray coloring is eight years of age.
She is spayed, up to date on all vaccinations and truly in need of a loving, attentive home in which to spend the next ten years (or so) of her life.
This feline has been living with a multitude of other cats over the last number of years so would adjust well to a household that reflected where she has come from. Lady Grey craves affection and would, we suspect, be very happy with a senior citizen and the undivided attention this would bring.
If you, or someone you know, is interested in adopting Lady Grey and providing her with a forever home, please contact Oasis at 289-385-6293, or complete and send this contact form:
I'd like to know more about adopting a pet from Oasis:
Please check you've entered your contact details correctly. When you press 'Submit', you will be redirected to our home page and a confirmation email will be sent to you - if not received in your inbox, please check your spam box. If applicable, please also specify the name of the animal you are enquiring about. Thank you.
View more domestic pets available for adoption at the Oasis Animal Rescue and Education Centre, Durham Region.
Perhaps someone in your social network would love to adopt this pet.
Please feel free to use the tools below and share Lady Grey with your friends.