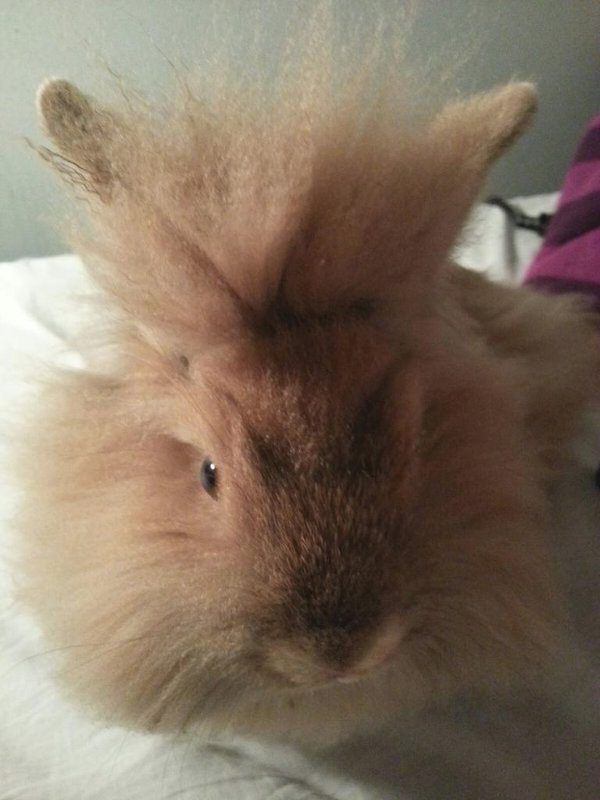 UPDATE March 5, 2013:
Great news for Leo our Lionhead rabbit. He is going to spend the remainder of his long life with a young couple who grew up with bunnies. Their last little chap passed away of old age and the void in the house was too large to wait any longer before replacing the pet. This will be a great home for Leo.
Best wishes in your new home Leo from the gang at Oasis Animal Rescue.
ORIGINAL TEXT:
Have you ever seen a little creature that looks like Leo? A rabbit ET?
Lionhead Rabbits are known to be very smart and can be easily trained to come, play and eat.
These tiny pocket pets crave attention and are friendly and well mannered.
Leo, at three months of age, is a delightful little fellow in need of a forever home. He is becoming accustomed to the cats in his foster home and would most likely fit quite well into a household with other pets or perhaps a bunny companion.
———————————————-
If you would like more information about adopting a rescue pet please contact Oasis at 289-385-6293.
Durham Region Cats For Adoption.
Durham Region Dogs For Adoption
Durham Region Rabbits For Adoption
Help our rescue pets find new homes – Please share our animal stories with your friends. Or subscribe here for free – receive pet updates straight to your inbox:

Oasis Animal Rescue – a non profit organization providing Durham Region society with humane animal rescue services – specializes in pet adoptions, re-homing and community outreach programs. Telephone 289-385-6293