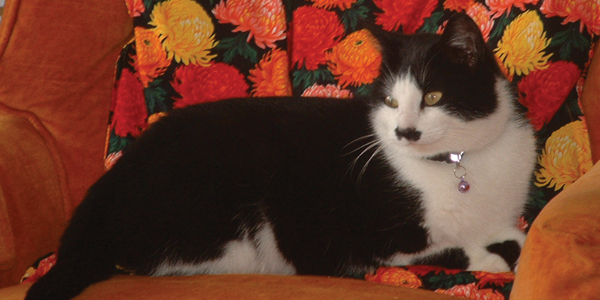 BIG NEWS!!
We're thrilled to announce that Lily, one of our very best feline friends here at Oasis, has found the perfect new forever home!!!
Many of the drop-in visitors at Oasis' offices at 86 Simcoe St. N. in Oshawa will have met Lily personally and many more people have regularly paused a moment to give Lily a little "Hello" wave as they were passing by our window. You see, for quite a long time, Lily has been a friendly and familiar face to all at Oasis.
Originally brought to Oasis Animal Rescue as a stray with two kittens, this adorable girl quickly captured the hearts of our staff, volunteers and visitors. Always claiming the most comfortable spots – on someone's lap… on top of the cabinet… the softest chair… – Lily enjoyed everyone's company and she particularly enjoyed the best seat in the house right in our front window where she could keep a watch over the neighbourhood and be there for her regular friends passing by or to encourage a young family to pop in to meet her.
Like all of the pets we rescue, care for and re-home, Lily too deserved the comfort, love and safety of a great forever home. Though Lily had become our 'office' cat, we all knew that one day her true family would come through our doors. That day happened last week.
When a local couple, with three older sons and no other animals at home, arrived at Oasis they were smitten with Lily, and Lily was smitten with them. It was clear. Naturally we were reluctant and protective of our little girl but we couldn't possibly deny Lily her chance of a lifetime, the opportunity she'd never had.
The family clearly loved her so much that Oasis staff, saddened at the possibility of Lily leaving us, knew it was right to place her with this family where, as the only pet, she would absolutely be the focus of their attention.
Lily's adoption is now complete and you'll be happy to hear that besides having a new family to love and care for her, Lily's new home also has a host of large picture windows – where she can happily watch over the neighbourhood!!
Of course we will miss her, and many others will too.
Congratulations Lily and big hugs from ALL of your friends at Oasis. xx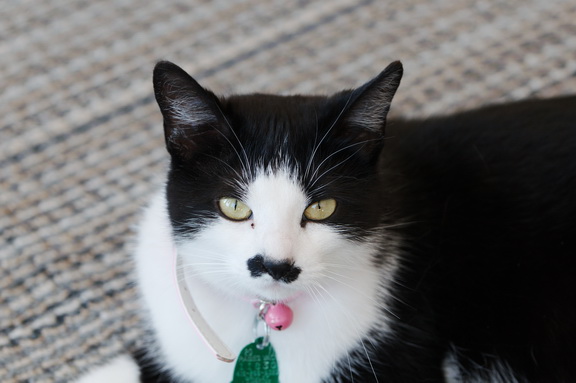 Original Story:
Lily's story, unfortunately, is not so unusual in the feline world of pregnant mothers-to-be.
Abandoned by her owners, she gave birth to four kittens under a deck and struggled to raise her brood without help. Thankfully the homeowner, although allergic to cats, managed to find a home for two of her offspring and contacted Oasis regarding Lily herself.
Oasis officially declared Lily our much welcomed "office cat" last week and a wonderful addition she has become. Come visit her & the other office cat, Jack at our 86 Simcoe Street North, Oshawa location.
---
For more information on how to adopt or foster any pet you see on this website,
please contact Oasis Animal Rescue and Education Center.