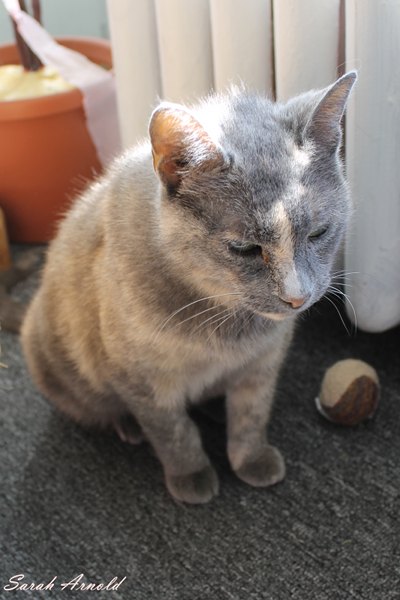 UPDATE:
We're so pleased to let you know today that rescue cat Maya has been adopted. To those who have met Maya when visiting our office, you'll agree that she was a lovely cat – you may even have seen her playing surrogate mother and giving a bath to some of the rescue kittens.
Maya will without a doubt be loved and well cared for in her new adoptive home.
Wishing you all the best Maya. Have fun and thanks for sharing a bit of time with the team, and our visitors, at Oasis Animal Rescue and Education Center.
—————————————————
Original Text:
Maya, the striking blue tortoise shell cat, is a sweet, vocal girl who is looking for her forever home. She is a "come to you" cat who enjoys being pet, but not picked up and is up to date on all vaccinations. She adores her wet food and treats. Her unique markings and beautiful eyes captivate all whom she meets. Maya would make a lovely addition to a quiet family who are willing to give her the attention, love and care she definitely deserves.
For information on how to adopt Maya or any other pet you see on this website, please contact Oasis Animal Rescue and Education Center. To view all the pets available for adoption, go to Pets Looking For A Home.