UPDATE 28 May:
We couldn't be more pleased for Charlie. He's found his forever home with a retired, condominium dweller in the GTA. Charlie joins a household that already has an 18 1/2 year old cat in residence and we're certain he too will receive lots of love for a long time to come.
Best wishes Charlie. It's been great to meet you.
UPDATE 21 May:
Charlie still remains on our adoption list and we're sure there is a new forever home out there for him too. If you or someone you know is considering adopting a cat, why not contact us at 289-385-6293 (or scroll down the page to complete and send our contact form) and arrange a visit to meet Charlie. He's lovely!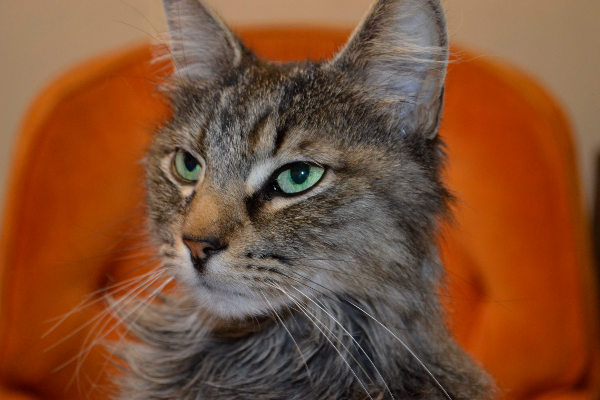 —————————————————–
Though back in August we were hoping that we'd be able to re-home Milo and Charlie into a forever home together, their foster family discovered that once they were in amongst other cats they became less and less dependent on each other. We decided recently that re-homing them individually would be a possibility and would give them each a better chance for adoption.
So, we're happy to announce that Milo was adopted by an endearing little four year old and her mom and dad. This cat loves attention and will get more than his due from a family who are experienced cat owners from many years back.
Best wishes to you and your new family, Milo.
THEIR STORY:
Milo and Charlie have been together since they were tiny kittens.
At seven years of age these beautiful boys are both neutered and up-to-date on their vaccinations. It is unfortunate that the youngster in their present household has developed an allergy to cat dander but such is the case and both must be re-homed as soon as possible.
Milo is a big guy whereas Charlie is considerably smaller. Milo LOVES his food almost as much as he adores every person who crosses his path. Charlie, on the other hand is somewhat shyer but enjoys cuddling and lots of pats.
Both felines are excellent with children and were very comfortable having two dogs in their household for many years. We are hoping that Milo and Charlie can find a forever home together. They are best friends.
———————————————-
If you, or someone you know, is interested in adopting a rescue pet, please contact Oasis at 289-385-6293, or complete and send this contact form:
I'd like to know more about adopting a pet from Oasis:
Please check you've entered your contact details correctly. When you press 'Submit', you will be redirected to our home page and a confirmation email will be sent to you - if not received in your inbox, please check your spam box. If applicable, please also specify the name of the animal you are enquiring about. Thank you.
See more cats hoping to be adopted soon.
See dogs seeking their forever homes.
Help our rescue pets find new homes – Please share our pets for adoption with your friends. Or subscribe here for free – receive pet updates straight to your inbox: