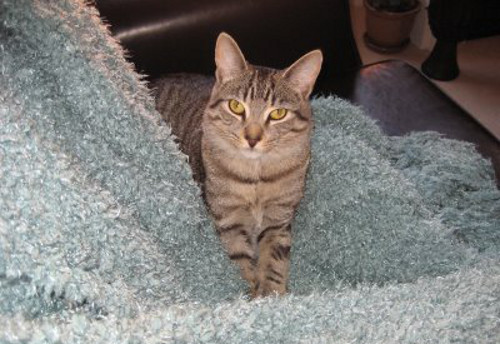 UPDATE:
Milo likes to keep himself busy and active, so a busy and active house will be perfect for him – and (YAY!) that's what Milo has found. He's been adopted by a busy and active family in Durham Region so there will always be plenty of interesting things on the go to keep Milo occupied.
Congratulations on finding your new forever home, Milo. We know you and your new family will adore each other.
Have fun.
ORIGINAL TEXT:
Milo was born March 2nd 2008. Milo is deeply loved by his present family and parting from this handsome boy is proving to be very difficult for everyone involved. Unfortunately, allergies have raised their ugly head and there is no choice but to find Milo a new home.
Up-to-date on his vaccinations, declawed and neutered, this personable little guy is accustomed to having children in his immediate environment and would thrive in a multi-generational setting.
Although not a kitten, Milo is playful, sociable and full of energy. It is hoped that his new home will be very liberal in the dispensing of treats for he is especially fond of these.
———————————————-
If you would like more information about adopting a rescue pet, please contact Oasis at 289-385-6293.
See more cats hoping to be adopted soon.
See dogs seeking their forever homes.
Help our rescue pets find new homes – Please share our animal stories with your friends. Or subscribe here for free – receive pet updates straight to your inbox:

Oasis Animal Rescue – a non profit organization providing Durham Region society with humane animal rescue services – specializes in pet adoptions, re-homing and community outreach programs. Telephone 289-385-6293