Update March 25:
Well that didn't take long!! Now the last two kittens of the litter, Marvella and Melodie, have found their forever homes. Neither will be lost for friends to play with… Melodie will be joining a home where a mother, her daughter and another cat will be waiting for her. Marvella will be joining a busy family with two kids, a cat and a dog. Congratulations and best wishes to all.
We've had quite a few requests about adopting kittens. All of the kittens in this litter have been adopted but, as of today March 25, there are two kittens currently available from Sapphire's litter: Latte and Leela (born February 28, 2013) and Misty is expected to deliver her kittens soon. Contact us using the form below if you are interested in any of our rescue pets for adoption.
Update March 24:
Two more kitten from Mimi's brood have found a forever home together – Mignonette and Millie are off to the same home in Newtonville with a lovely couple. They will be the only pets in the house and sure to get the best of care, love and attention.
Which leaves two kittens remaining: Marvella and Melodie, and of course their mother Mimi, who will also be looking for a home once her kittens have grown.
Update March 15:
"Darn you crazy kittens!!" You all run around looking cute when there's no camera in the room! Then curl up in a fur ball when there is!! We'll post more pics as soon as they allow!
Meanwhile, BREAKING NEWS!!!…. two of Mimi's kittens have now found a home to go to when they are of age (around 15 April). Matilde and her (one and only) brother Théodore are being adopted together. Their new family already have cats and they have a large house and huge hearts with more than enough love for two tiny kittens.
Their gorgeous sisters Marvella, Millie, Melodie and Mignonette are still available. We'll get their pictures soon. Promise!
———————————
Update March 12:
Mimi's kittens are just over three weeks of age. We now know that there are 5 girls and 1 boy (the orange one) and they've all been named. Proud Mimi's kits are now known as:
Marvella
Matilde
Millie
Melodie
Mignonette
and
Théodore
Here are Mignonette and Matilde. All the others were sleeping!! So more pics will follow as soon as we can get them:
——————————————–
Mimi was a stray. Unfortunately, Mimi was also pregnant.
Thankfully her benefactor was kind enough to offer this lovely cat and her six kittens haven until Oasis could be contacted.
We are happy to help out this little family. The litter arrived on February 17th. They will be ready to go to their forever homes on April 15th.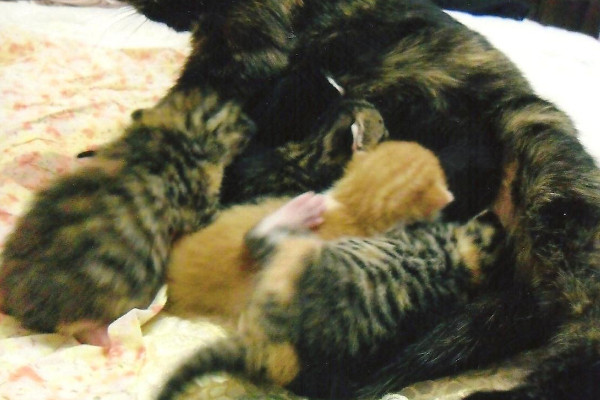 We will be sexing these beautiful babies as soon as we can. Please contact us to reserve.
———————————————-
If you would like more information about adopting a rescue pet, please contact Oasis at 289-385-6293, or complete and send this contact form:
I'd like to know more about adopting a pet from Oasis:
Please check you've entered your contact details correctly. When you press 'Submit', you will be redirected to our home page and a confirmation email will be sent to you - if not received in your inbox, please check your spam box. If applicable, please also specify the name of the animal you are enquiring about. Thank you.
Durham Region Cats For Adoption.
Durham Region Dogs For Adoption
Help our rescue pets find new homes – Please share our animal stories with your friends. Or subscribe here for free – receive pet updates straight to your inbox:

Oasis Animal Rescue – a non profit organization providing Durham Region society with humane animal rescue services – specializes in pet adoptions, re-homing and community outreach programs. Telephone 289-385-6293