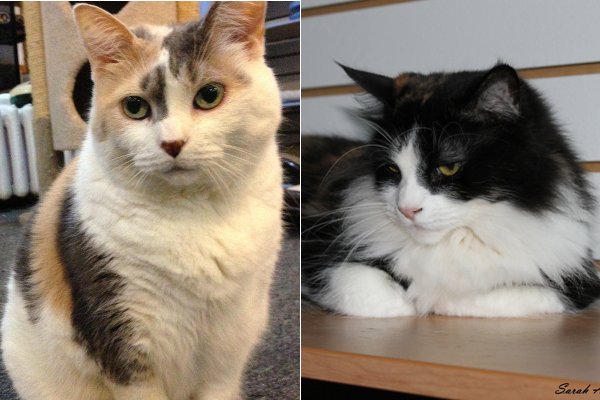 UPDATE:
Hey, we hoped Molly and Holly would be adopted together, but……
They were!! And we're thrilled.
Molly and Holly have been adopted permanently by their compassionate and attentive foster father and are now living in Brooklin. It's a perfect match and Molly, Holly and Daddy are all happy.
We decided to dispatch our Oasis Roving Reporter to ask Molly and Holly directly how happy they were in a new permanent home:
Molly purred and dreamily replied "Miaow".
Holly confirmed that with "Miaow, Miaow".
Proud Dad added: "These girls are purr-fect!"
So there you have it folks, you heard it here first!… Everything seems to be purr-ing right along!
Congrats to all from the team at Oasis.
Original Text:
Molly and Holly have lived their whole lives together. It is sad to realize that both now need to be re-homed.
Their former owner loved them dearly and was devastated to have to make the decision to part with these two bonded felines due to a medical condition in her immediate family.
Molly and Holly are currently in a foster home. Our hope is that we can find them a home together.
Friendly, sociable Molly is 12 years of age, spayed, up-to-date on her vaccinations and declawed.
Affectionate, shy Holly is nine years of age, spayed and also current on her vaccinations.
Both cats would make perfect companions for a senior citizen or retired couple who are looking for many years of loyal companionship from a special pair named Molly and Holly.
———————————————-
Interested in meeting Molly and Holly? You'll love them! Please contact Oasis at 289-385-6293, or complete and send this contact form:
I'd like to know more about adopting a pet from Oasis:
Please check you've entered your contact details correctly. When you press 'Submit', you will be redirected to our home page and a confirmation email will be sent to you - if not received in your inbox, please check your spam box. If applicable, please also specify the name of the animal you are enquiring about. Thank you.
Your donations help us feed and meet veterinary costs for so many rescue pets
See more cats hoping to be adopted soon.
Help our rescue pets find new homes – Please share our animal stories with your friends. Or subscribe here for free – receive pet updates straight to your inbox:

Oasis Animal Rescue – a non profit organization providing Durham Region society with humane animal rescue services – specializes in pet adoptions, re-homing and community outreach programs. Telephone 289-385-6293