UPDATE 25 February:
————————————-
Read Olaf's story below and then an UPDATE on Olaf's recovery has been posted here.
————–
Yesterday (12 Feb), as a young boy was cutting through a field on his way to school, he came across what he believed to be a dead cat. With all the strength it could muster, the cat raised its head and forced a weak meow. A final appeal for help.
The cat had been doused with some type of liquid from its mid back right to the end of it's tail and this area was completely frozen – as was one of it's ears that had suffered the same fate. The animal was more dead than alive.
Clearly alarmed, the boy lifted the poor cat and brought it to Oasis Animal Rescue for help where staff were able to immediately start warming the animal and rush it to the veterinary clinic.
The prognosis at first was grim. A heart rate that should have been 180 was barely discernible. Not much hope was given for this poor creature and, if he recovered, amputation of both back legs was being seriously considered.
A short while later, Olaf (the name given to him by concerned vet staff), seemed to be coming around. His heart rate was detected at 100 and continuing to rise. Dried with hair dryers, wrapped in blankets and surrounded by heaters, Olaf seemed to be holding his own. He would be put on IV fluids once he gained a bit more strength.
Apparently, he had also been starving but, fortunately, today he's eaten the bits of food that clinic staff have placed before him. The big question now is whether or not his tail will need to be amputated.
Please consider donating to help us help Olaf
We may never know how he ended up in that state, but Olaf's pleading meow definitely saved his life. If the boy hadn't passed at that moment and Olaf had lain any longer in sub-zero temperatures he would surely have frozen to death. Fortunately he's alive.
We currently expect that Olaf will recover from this ordeal. However, the cost of veterinary care will approach $1000. Any help from our supporters at this difficult time would of course be gratefully appreciated.
Donate Online
You can donate online by clicking the Donate button below.
Donating through Paypal is easy, safe and secure.
Donate By Mail
Cheques, made payable to Oasis Animal Rescue and Education Center, can be forwarded by post to:
Oasis Animal Rescue and Education Center
140 Simcoe Street South
OSHAWA, Ontario
L1H 4G9
Donate In Person
We love visitors. Drop by our office in downtown Oshawa (map). You can meet our team, our volunteers and some of the pets currently available for adoption. You'll also be able to ask your questions, learn more about Oasis and make your donation in person.
We're open seven days a week: Monday to Friday – 10am to 5pm, Weekends – 10am to 3pm. Telephone: 289-385-6293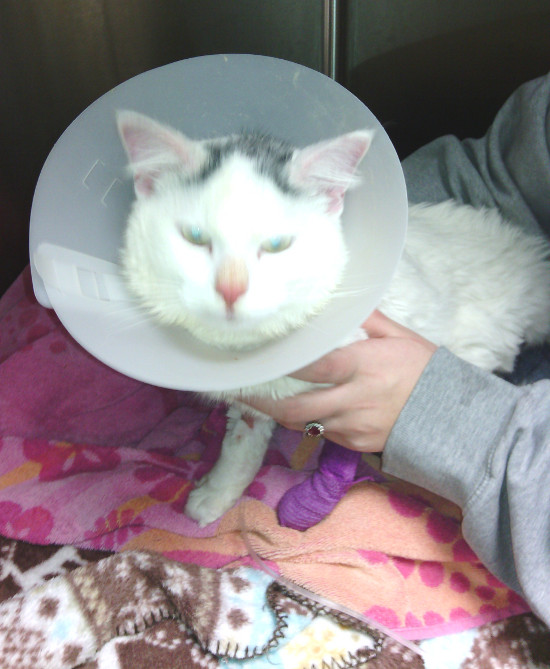 ——————————————————–
Subscribe To Our News Feed
You'll Get FREE Updates on Rescue Pets and Oasis Information sent direct to your inbox. (Oasis does not share your email address and you can unsubscribe at any time.)