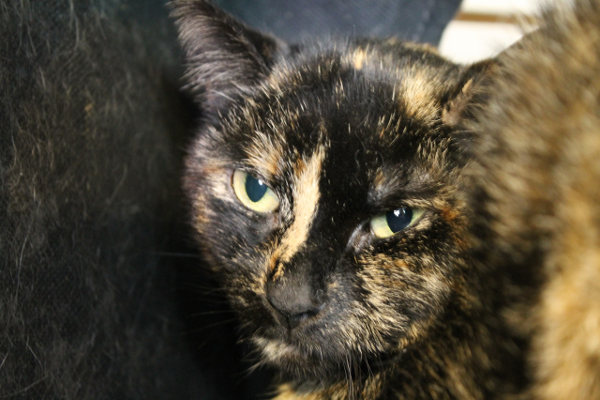 UPDATE 4 FEB, 2013:
Pepper, unfortunately, suddenly became quite ill and when rushed to the vet on Saturday was declared beyond reasonable help. The prognosis was kidney failure, with complications, and the vet recommended that Pepper be humanely put to sleep to end her suffering. Poor little gal. We so wanted to find her the forever home she deserved.
R.I.P. Pepper
Original Text:
Pepper's previous owner decided that she was no longer wanted and made the decision to euthanize this stunning little cat.
An animal friendly acquaintance stepped in and agreed to find a place that would take Pepper. That place turned out to be with us here at Oasis Animal Rescue.
At 10 years of age, up-to-date on her vaccinations and spayed, this attractive feline has many more years in front of her.
Shy, gentle and still acclimatizing herself to her new foster home, Pepper would prove to be the perfect companion for a senior citizen or retired couple. We believe that a busy household with children and a menagerie of other animals would be far too stressful for a laid back cat who values her solitude as does Pepper.
———————————————-
If you would like more information about adopting a rescue pet please contact Oasis at 289-385-6293.
See all pets for adoption at Oasis Animal Rescue
Learn how you can donate to Oasis Animal Rescue
Help our rescue pets find new homes – Please share our animal stories with your friends. Or subscribe here for free – receive pet updates straight to your inbox:

Oasis Animal Rescue – a non profit organization providing Durham Region society with humane animal rescue services – specializes in pet adoptions, re-homing and community outreach programs. Telephone 289-385-6293