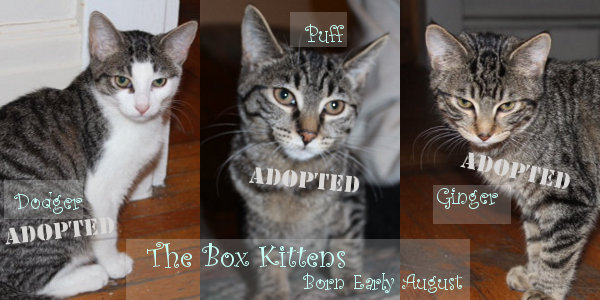 UPDATE 24 April:
Hurray!! Dodger has been adopted by his foster family. He now has, as a lifelong companion, another Oasis kitten called Captain Jack who was adopted just three weeks ago. What great news for both felines.
On behalf of Oasis supporters and our team of staff and volunteers…Congratulations and best wishes in your new home Dodger.
All of the box kittens have now been adopted. YAY!!
—————————————–
UPDATE 14 February:
YAY!! Puff, happily, has been adopted by his foster dad. This young man is single, has just completed high school and has two other cats in his household to keep Puff company. When faced with the fact that someone else might adopt the little guy it became very clear to the new owner that he would miss Puff dreadfully and had better "step up to the plate" and make a long term commitment. And he did.
Congratulations to you both and best wishes from the gang and our supporters at Oasis.
Dodger is still available for adoption, so call us at 289-385-6293, or scroll down for our online contact form, to find out if Dodger's the one for you.
UPDATE 6 February:
Puff & Dodger are still looking for their forever homes. Both of these boys have now been neutered and are up-to-date on their vaccinations.
If you would like to meet Puff & Dodger in person, please contact us at 289-385-6293 or scroll down for our online contact form.
UPDATE 17 November:
Ginger has been adopted by a couple in Whitby who have a canine in the household. His new owners are seasoned cat people and were thrilled when Ginger arrived at his new home and immediately began happily exploring each and every "nook and cranny" throughout their spacious apartment.
Congratulations Ginger from all of us at Oasis.
Ginger's brothers, Dodger and Puff (now approx. 6 month old) are hoping to also be adopted soon. If you are interested in adopting kittens Dodger or Puff, please contact us at 289-385-6293 or scroll down for our online contact form.
———————————————
Original text:
Dodger, Puff and Ginger are siblings. At fourteen weeks of age these energetic, playful kittens have been examined by the vet, de-wormed and given their first vaccinations.
We strongly suspect that these little ones were nurtured during their first few months in a home that contained children and dogs for they relate well to both and are highly sociable.
Puff, Dodger and Ginger are lucky cats!!   Shamelessly dumped in a local park, confined to a cardboard box that was rapidly disintegrating due to the rainy conditions of the day, they were spotted by two young girls who brought them to Oasis.
Now safely ensconced in a loving foster home these three boys are on the search for homes they can call their own with lots of activity, tons of toys and a non ending supply of treats.
———————————————-
If you would like more information about adopting a rescue pet please contact Oasis at 289-385-6293, or complete and send this contact form:
I'd like to know more about adopting a pet from Oasis:
Please check you've entered your contact details correctly. When you press 'Submit', you will be redirected to our home page and a confirmation email will be sent to you - if not received in your inbox, please check your spam box. If applicable, please also specify the name of the animal you are enquiring about. Thank you.
Durham Region Cats For Adoption.
Durham Region Dogs For Adoption
How Your Donations Help The Pets At Oasis
Help our rescue pets find new homes – Please share our animal stories with your friends. Or subscribe here for free – receive pet updates straight to your inbox:

Oasis Animal Rescue – a non profit organization providing Durham Region society with humane animal rescue services – specializes in pet adoptions, re-homing and community outreach programs.