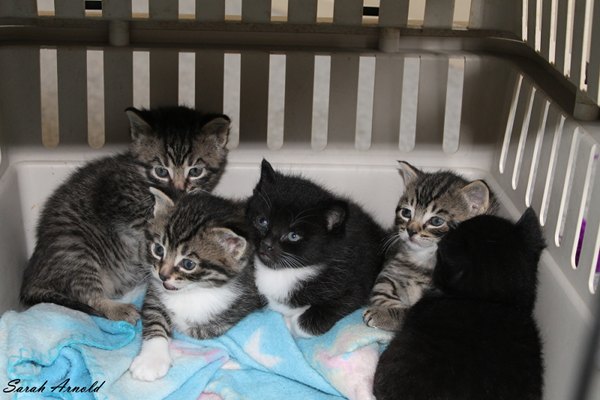 UPDATE:
Bridget has now been adopted. YAY!! Bridget went to a beautiful home with a young boy and a mother and father. She was a Christmas present from the mom to her husband who declares himself a "cat whisperer" for he has a real connection with animals. Lucky Girl!
Best wishes in your new home Bridget. We're so pleased to have been able to find homes for all the beautiful kittens in this litter.
Have a look here at other pets still on our adoption list.
The really great news is: Ink has been adopted! A new mom, a new dad, a new baby and three new cats to play with! What a great Oshawa home our Ink has found. Congratulations to all.
Lovely kitten Bridget however is still available for adoption and waiting for your phone call: 289-385-6293. Don't miss Bridget…start dialling!
UPDATE:
Just Bridget and Ink (see below) remain on our adoption list. Can you offer a home to these gorgeous kittens?
Contact us today for complete information.
UPDATE:
They've amused us with their antics over the past few months and they've been regular subjects in our Daily Dose of Cute over on our facebook and twitter pages, but Gingers kittens are still on our adoption list. One day soon though, with your help, we'll find these kits the forever homes they deserve.
These little rescue kitten beauties deserve a good home.
Perhaps you know someone who can help?


Please share the pics with your friends.



UPDATE:  No more waiting! The kittens are old enough to go to new homes, and mother Ginger would love to be adopted too. Contact us today!
Here are the latest shots of a few of them (those that would stay still long enough for the camera):
Original text:
Ginger and her family of five came to Oasis via a phone call. Apparently this mother cat has had a number of litters over the course of the last few years, all the while living unprotected on her own in a middle class neighborhood in Oshawa.
Although observed struggling to survive herself and care for her kittens, not a single person attempted to catch this very social little lady and end the cycle of procreation that had become her lot.
———————–
Click each photo below to enlarge or click the link to watch slideshow…

———————–
Thankfully, fate stepped in and brought her to Oasis. We estimate that her kittens, healthy and adorable, are approximately four weeks of age. They will be ready for forever homes at the end of June.
Visit rescue kittens in

The Nursery

and stay tuned to their progress and that of Ginger who will also be up for adoption.