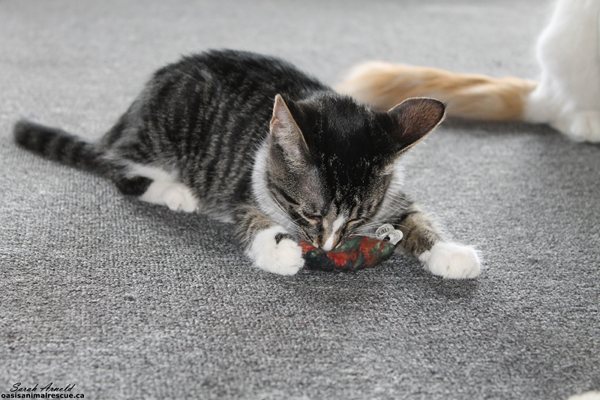 UPDATE 31 August:
She waited a little longer than litter mate Glory, but it was worth it. Blaze has been adopted…YAY!! And she couldn't have gone to a better home. Her new owner loves animals (and even volunteers with Oasis). Blaze's new mom already had a cat at home but, when she met Blaze, she knew that having the pitter patter of more tiny feet in the house would be a delight. So thanks again to another person in our community who knows the benefits of having loving pets in our homes. Congratulations to Blaze and best of luck in your new abode from your pals at Oasis – send us some photos when you get settled, will ya?
UPDATE July 13:
Congratulations Glory on finding your forever home. We're pleased to announce that Glory will be heading off today to join her new family living in the north Durham.
The husband and wife couple adopting Glory visited Oasis' Simcoe St. N. office in Oshawa and together they specifically chose Glory as a new playmate for one cat they already have at home.
Of course they are incredibly excited to welcome Glory into their family, so we're particularly pleased to say "Congratulations Glory on finding your forever home!". We know you'll be loved and well-cared for. Have fun.
Glory's sister Blaze remains on our adoption list. Will she be the kitten that joins your family? Please contact us today if you wish to adopt kitten Blaze.
Original Text:
Kittens Blaze (below) and Glory (above) are two, twelve week old siblings who are ready to go to their new, forever home.
They can be adopted separately but are truly good buddies. It would be ideal if these brown tabby Main Coon mix kittens were not separated.
Both are girls, up-to-date on their vaccinations and FULL of energy. They play non stop, are very social and love their treats.
They are housed in a foster home with other cats and relate well to felines both older and younger than themselves.
——————————————————–
If you, or someone you know, is interested in adopting kittens Blaze and Glory, please contact Oasis at 289-385-6293, or complete and send this contact form:
I'd like to know more about adopting a pet from Oasis:
Please check you've entered your contact details correctly. When you press 'Submit', you will be redirected to our home page and a confirmation email will be sent to you - if not received in your inbox, please check your spam box. If applicable, please also specify the name of the animal you are enquiring about. Thank you.
View more domestic pets available for adoption at the Oasis Animal Rescue and Education Center, Durham Region.
Perhaps someone in your social network would love to adopt one of these rescue pets.
Share the pics with your friends.
Join our email newsletter (free subscription – top of right hand column)