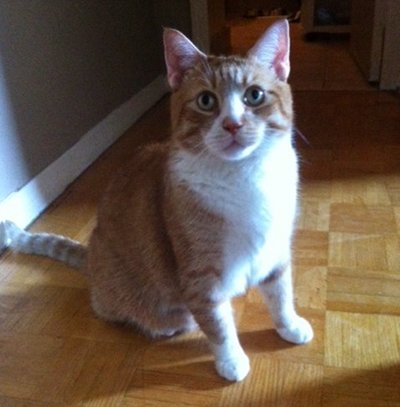 UPDATE:
Kitten's comfortable home life was turned upside down when a family member developed severe allergies. We're happy to announce now that Kitten has found another comfortable home with a relative of his family.
Congratulations Kitten, we're sure that you're now happy and settling well into your new environment.
All the best in your new home Kitten.
ORIGINAL TEXT:
Poor Kitten. This little chap was supremely contented with his present family when, unfortunately, a member of the household developed severe allergies to feline dander.
No alternative could be found other than to re-home Kitten.
This attractive orange and white male is five years of age, neutered and up-to-date on all of his vaccinations. He is great with children but has not had a lot of exposure to other animals. We suspect that Kitten is highly adaptable and would be quite happy in a multi-generational home or even with a single person.
——————————————————–
View more domestic pets available for adoption at the Oasis Animal Rescue and Education Center, Durham Region.
Perhaps someone in your social network would love to adopt one of the Oasis rescue pets.
Share the pics with your friends.