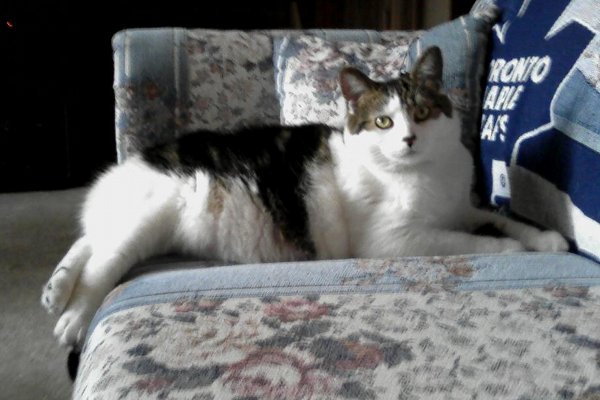 Congratulations Rocky! He's been adopted by a very caring senior couple who are looking forward to having him around the house.
Rescue pets make excellent companions for seniors and Rocky's new mom and dad, like many others, realize the benefits of having a pet to look after. Benefits for them, benefits for the pet. Perfect solution don't you think?
The Oasis team wishes Rocky and his new parents all the very best. Have fun!
Original Text:
Rocky is a handsome boy who, unfortunately, needs to find a new home. His present owner has recently moved and was unable to take him with her.
Three years of age, up-to-date on his vaccinations, declawed and microchipped, Rocky has not had any experience with children or other pets although we are sure that a feline "buddy" would be a welcome change in his life.
This little guy is very affectionate, sociable and full of curiosity. Basking in the sun on a window ledge while gazing longingly at the squirrels and birds outside would be an ideal pastime for Rocky who has always been an indoor cat.
———————————————-
If you, or someone you know, is interested in adopting a rescue pet, please contact Oasis at 289-385-6293
See more cats hoping to be adopted soon.
See dogs seeking their forever homes.
Help our rescue pets find new homes – Please share our pets for adoption with your friends. Or subscribe here for free – receive pet updates straight to your inbox: