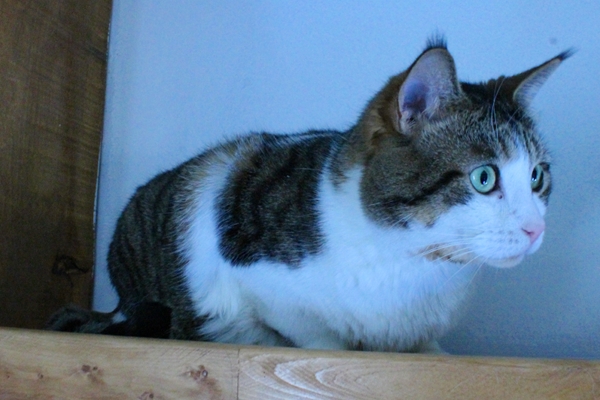 UPDATE: We suspected that Roger's bubbly personality would soon grab the attention of someone searching for a rescue cat to adopt. YAY! We were right. Roger's a great cat who has now been adopted into the home of someone who cares very much for animals. So, without a doubt, we've been able to find the perfect match for him and we wish both Roger, and his new owner, and a very long and happy life together.
Maybe your new friend will send along a few pics of you relaxing in your new home Roger? We'd love to share them with our readers.
Original Text:
Roger, at two years of age, is a playful, sociable little guy who is up-to-date on all his shots and neutered.
His senior owner has developed allergies and can no longer provide this short haired, brown and white tabby with the secure and loving home he deserves. Roger is excellent with children and other animals. When he first encounters "new folks" he is a bit shy but warms up quickly and seeks out the treats and toys he so enjoys.
View more domestic pets available for adoption at the Oasis Animal Rescue and Education Centre, Durham Region.
Perhaps someone in your social network would love to adopt a rescue pet.
Please feel free to use the tools below and share our website with your friends.