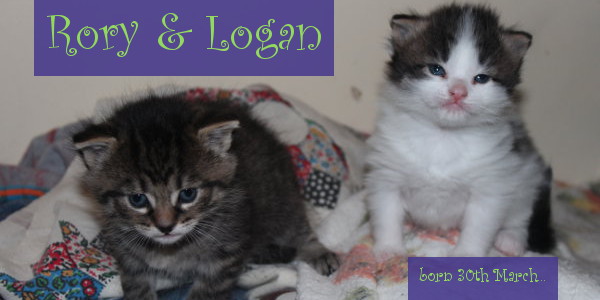 UPDATE 21 May:
They hoped for a positive future and that's just what they've now got. Rory and Logan have been adopted together into a lovely home in Durham Region with a couple who do not have any other pets.
Their new family hails from the United Kingdom but unfortunately had to leave their 19 year old cat behind because they knew how dreadfully stressful it would have been to ship the feline to Canada. We're sure Rory and Logan will be well-cared for in their new forever home and it's particularly nice that these siblings get to stay together for they have become very close to each other.
Best wishes to all from your friends at Oasis Animal Rescue. Enjoy!
UPDATE 14 May:
Rory and Logan are coming on a treat. Born on the 30th of March, they are almost old enough to leave their mother but unfortunately neither of them has found a forever home yet. If you'd like more info about them, please contact us at 289-385-6293 or scroll down for our contact form.
They're so cute! Here are some recent photos:
UPDATE 3 May:
Now five weeks of age, kittens Rory and Logan are coming on a treat. Born to momma cat Frankie (scroll down for their story and more photos) they'll be ready to go to forever homes when they're eight weeks old – unfortunately, we haven't found new homes for them to go to yet!
If you'd like to know more about Rory and Logan, you can call Oasis at 289-385-6293 or use the contact form at the bottom of this page.
UPDATE 24 April:
Growing big and strong! Now three weeks old, here's a few recent shots of Frankie's girls Rory and Logan. (Scroll down the page for their story and our contact form)
UPDATE 18 April:
Frankie is naturally quite protective of her kittens but as Rory and Logan (both female) have now had their two week birthday, and are moving around more, hopefully Frankie will let them pose for the camera more often. Here's a few new photos for you…
Contact the Oasis team (using form below or call 289-385-6293) to learn more about adopting momma cat Frankie or her kittens.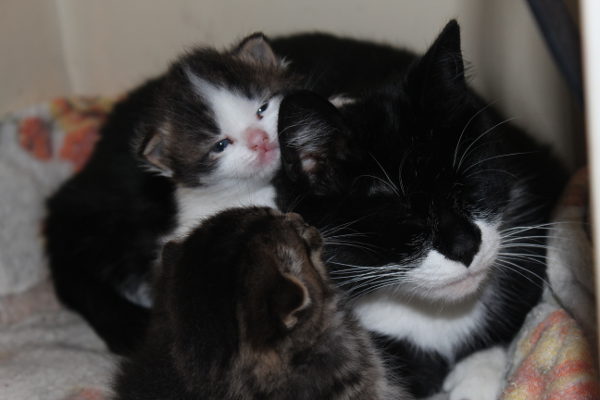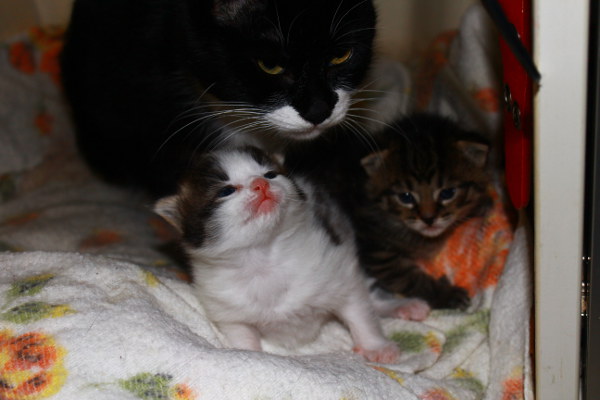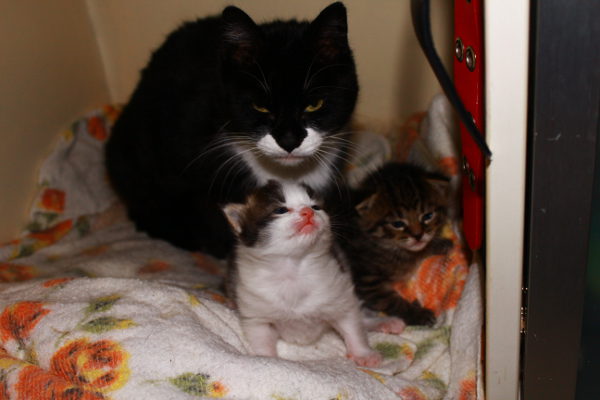 ———————————————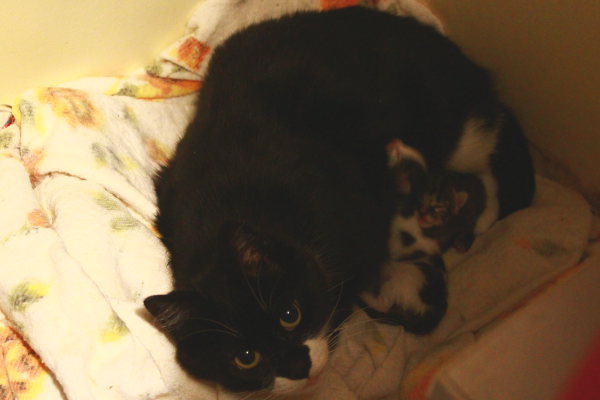 Frankie had been a member of a feral colony for quite awhile. She has given birth to numerous litters over that time period.
The colony is now being dispersed because the buildings are being demolished. A few members of one of the businesses located there decided to "champion" Frankie and her unborn kittens and asked for help in establishing a positive future for her when they called Oasis.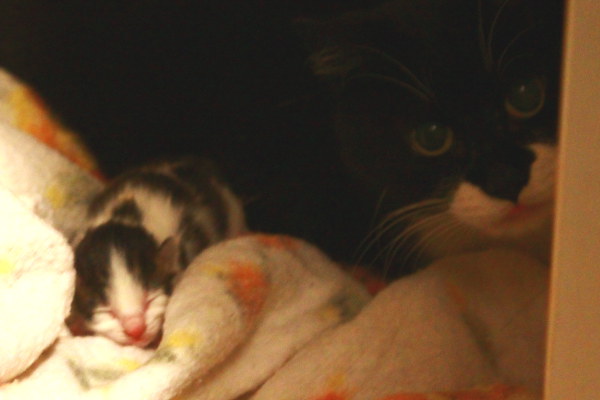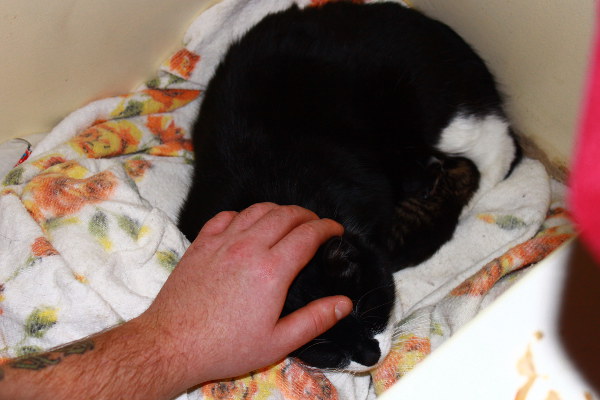 We have been able to place Frankie in a foster home where she has now given birth to her little family. On Thursday, March 28th Frankie first (unfortunately) delivered a stillborn kitten but then along came a black and white kitten that's been named Rory. Two days later, on Saturday, March 30th, her second kitten Logan was born. They are both female and both doing fine and will be ready to go to their forever homes at the end of May.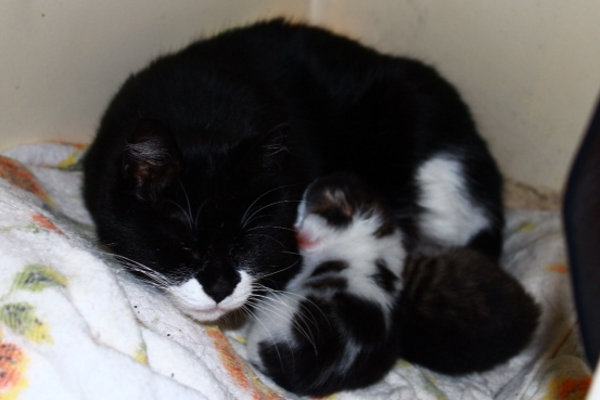 ———————————————-
If you would like more information about adopting a rescue pet please contact Oasis at 289-385-6293, or complete and send this contact form:
I'd like to know more about adopting a pet from Oasis:
Please check you've entered your contact details correctly. When you press 'Submit', you will be redirected to our home page and a confirmation email will be sent to you - if not received in your inbox, please check your spam box. If applicable, please also specify the name of the animal you are enquiring about. Thank you.
Durham Region Cats For Adoption.
Durham Region Dogs For Adoption
How Your Donations Help The Pets At Oasis
Help our rescue pets find new homes – Please share our animal stories with your friends. Or subscribe here for free – receive pet updates straight to your inbox:

Oasis Animal Rescue – a non profit organization providing Durham Region society with humane animal rescue services – specializes in pet adoptions, re-homing and community outreach programs. Telephone 289-385-6293