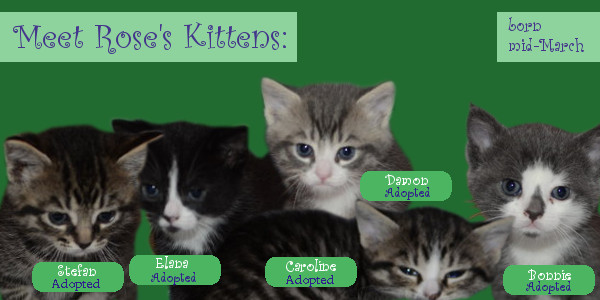 UPDATE 6 May:
The last kitten from Rose's litter, Damon, has now also been adopted. There seems to be a regular steam of kittens at Oasis Animal Rescue. If you are interested in adopting a kitten but don't see any kittens listed in the Baby Pets For Adoption section of this website, please call us at 289-385-6293 or use the contact form below – there may be other litters that haven't yet been listed online.
UPDATE 2 May:
Elana and Bonnie have now been adopted.
UPDATE 25 April:
The first two of Rose's kittens have now been officially adopted. Stefan and Caroline, once old enough, will be going on to live together in the same home in Toronto. It is a french speaking household so they will, no doubt, become bilingual. There are two boys, eight and eleven years of age, and no other pets. So Caroline and Stephan will be a very welcome addition.
Elana, Damon and Bonnie are still hoping to reserve their forever families too!
Original Story:
These cute little ones – named Bonnie, Caroline, Elena, Damon and Stefan – were luckily found by a building superintendent after they were left in an apartment in Scarborough with their mother Rose and one female cat, eight months of age, that was from Rose's previous litter.
There were also two male cats in the household. Fortunately the males were re-homed and Rose and her little family were brought to Oasis and are now safe in foster care until the kittens are old enough to be adopted (they're approximately five weeks old as of Apr. 20th).
Hopefully, with your help, we'll be able to find homes for all of them. Please use the contact form below or call us at 289-385-6293 for more info.
———————————————-
If you would like more information about pet adoption please contact Oasis at 289-385-6293, or complete and send this contact form:
I'd like to know more about adopting a pet from Oasis:
Please check you've entered your contact details correctly. When you press 'Submit', you will be redirected to our home page and a confirmation email will be sent to you - if not received in your inbox, please check your spam box. If applicable, please also specify the name of the animal you are enquiring about. Thank you.
Durham Region Cats For Adoption.
Durham Region Dogs For Adoption
How Your Donations Help The Pets At Oasis
Help our rescue pets find new homes – Please share our animal stories with your friends. Or subscribe here for free – receive pet updates straight to your inbox:

Oasis Animal Rescue – a non profit organization providing Durham Region society with humane animal rescue services – specializes in pet adoptions, re-homing and community outreach programs. Telephone 289-385-6293