UPDATE:
Sam has finally found his forever home with a gentleman from Peterborough. There are no other animals in the house to compete for the undivided attention that this chap is prepared to lavish on Sam and every few weeks his eight year old daughter will visit to turn the placement into a family affair. Lucky Sam! Congratulations. We wish them all the very best.
——————————————–
Original Story:
Sam loves people. A Boxer cross, this handsome lad believes there is nothing better than a hug and a lap cuddle.
At 4 1/2 years of age, Sam has been in the same household since he was a tiny puppy. Family circumstances have changed, however, and it is now time for him to find a more suitable environment where he can truly be appreciated for the wonderful dog he is.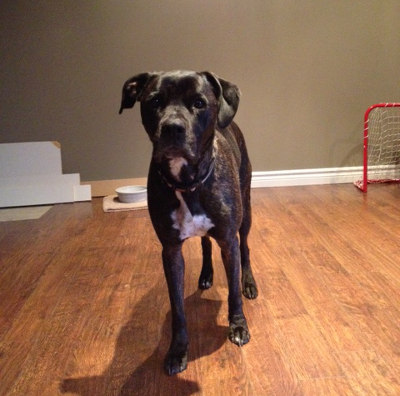 Sam is neutered and up-to-date on his vaccinations. Leash free parks and large back yards are his favorite places for they provide the opportunity to frolic and play.
Sam's present foster father is amazed at how trainable this canine is and thrilled that his 10 year old daughter can walk him by herself. It is not often that you find a canine who will heel off leash and obey, at an instant, any verbal commands thrown his way.
Sam would make a loyal companion and is best suited as the only pet in a home with adults (perhaps teenage children). He is SUCH a special boy!!
———————————————-
If you would like more information about adopting a rescue pet please contact Oasis at 289-385-6293.
See more cats hoping to be adopted soon.
See dogs seeking their forever homes.
Help our rescue pets find new homes – Please share our animal stories with your friends. Or subscribe here for free – receive pet updates straight to your inbox:

Oasis Animal Rescue – a non profit organization providing Durham Region society with humane animal rescue services – specializes in pet adoptions, re-homing and community outreach programs. Telephone 289-385-6293