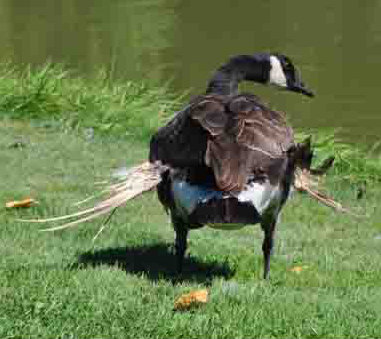 UPDATE 22 November:
"Sammy is Quite A Goose" says his foster carers when they sent along this progress report for you:
I was worried about Sammy for a little while.  It's quite an adjustment for a wild goose to be suddenly enclosed with a bunch of other fowl.  He wasn't eating for a little while as I think he needed to get used to the seeds and grain.  Cheri even put the pool up that she normally does in the summer for the others.  At first he didn't go near it, but now he swims in it all the time and is eating LOTS.  She said he is doing much better now.  Her husband sent me an email saying that it didn't take him long to figure out that he was bigger than most of them and that he was "the king of the jungle".
We'd like to extend a huge thanks to Sammy's Foster Carers, on behalf of all the Oasis supporters, for stepping up to the plate and keeping Sammy safe: THANKS!! We're sure Sammy is very grateful.
————————————————
UPDATE 14 November:
Sammy The Canadian Goose has landed lucky! He has found a foster home near the town of Simcoe for the winter. He'll have some companions to keep him company too….a South African Goose, a white farm duck (a rescue), Indian Runners and lots of chickens.
Couldn't get any better than that! Congratulations Sammy and have a great winter! Thanks to all our friends for sharing his story and helping Sammy find a new home.
—————————————————
Original Story:
Sammy needs a winter home. This attractive, young Canadian Goose was born early spring (2013) on a golf course in Durham Region and has spent the last eight months maturing and enjoying the company of other members of his flock.
Sammy, unfortunately won't be soaring high with his friends or perhaps joining them in their annual migration south – for he was born with a defect in the design of his wings and cannot fly.
Sammy is quite safe from predators as long as he can retreat to the safety of the pond, but, winter is in the offing, and his source of comfort will soon freeze over.
Sammy is friendly, very social and honks loudly when his feathered friends come to play.
Sammy needs our help!!
Please contact us by phone or e-mail if you can offer a temporary winter haven to this wonderful creature.
———————————————-
If you would like more information about helping Sammy The Goose please contact Oasis at 289-385-6293, or complete and send this contact form:
I'd like to know more about adopting a pet from Oasis:
Please check you've entered your contact details correctly. When you press 'Submit', you will be redirected to our home page and a confirmation email will be sent to you - if not received in your inbox, please check your spam box. If applicable, please also specify the name of the animal you are enquiring about. Thank you.
Durham Region Cats For Adoption.
Durham Region Dogs For Adoption
How Your Donations Help The Pets At Oasis
Help our rescue pets find new homes – Please share our animal stories with your friends. Or subscribe here for free – receive pet updates straight to your inbox:

Oasis Animal Rescue – a non profit organization providing Durham Region society with humane animal rescue services – specializes in pet adoptions, re-homing and community outreach programs. Telephone 289-385-6293