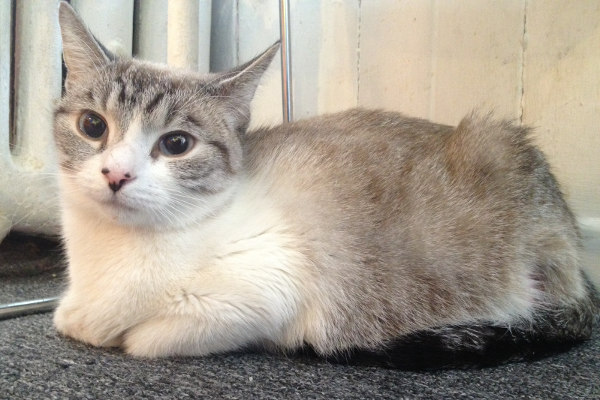 UPDATE 25 Feb, 2013:
Wouldn't you just know it? It turned out that Sapphire was pregnant when she arrived at Oasis!!
Luckily for her, that hasn't stopped the "empty nester" couple who have decided to adopt Sapphire anyway and are thrilled that her pregnancy has elevated them to the status of "about to be" grandparents.
When the kittens are born they will be placed in forever homes by Oasis and Sapphire will finally come to the end of her "kitten bearing" years ( this is litter number five!!) and be spayed.
So congratulations Sapphire, but, we'll have kittens soon to find homes for. So check back soon for more info on that.
Original Text:
All the pets for adoption at Oasis have a story. In Sapphire's case we were informed that a house had burnt down and therefore her owner could no longer care for her. And thus, this beautiful girl was registered with our rescue.
Sapphire is a Seal Lynx Point Siamese. Cuddly and affectionate, this two year old is up-to-date on her vaccinations.
Sapphire's overall personality leads us to believe that she would thrive in most any household and it is quite evident that she enjoys the company of other cats.
———————————————-
If you would like more information about adopting a rescue pet please contact Oasis at 289-385-6293.
Durham Region Cats For Adoption.
Durham Region Dogs For Adoption
Help our rescue pets find new homes – Please share our animal stories with your friends. Or subscribe here for free – receive pet updates straight to your inbox:

Oasis Animal Rescue – a non profit organization providing Durham Region society with humane animal rescue services – specializes in pet adoptions, re-homing and community outreach programs. Telephone 289-385-6293