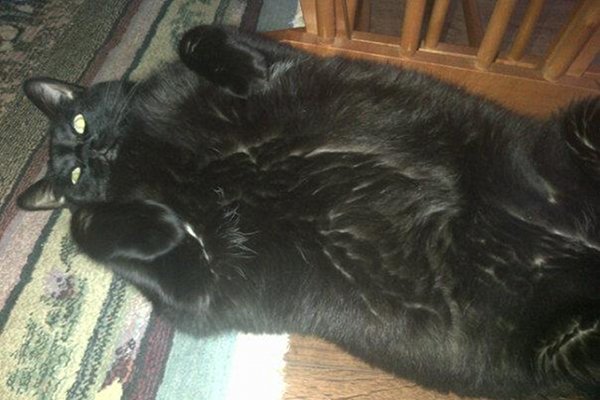 UPDATE:
When it became necessary for Fritz to leave his previous home, he was moved to a foster home in Oshawa where this big boy has been treated like gold over the many months that we've been looking for a permanent home.
Happily, Shadow bonded so well in the house that his foster dad decided to adopt him permanently. As you can imagine, we're thrilled for Shadow. Great news for both of them, eh?
Congratulations guys!
ORIGINAL TEXT:
Shadow, unfortunately, is no longer wanted in his present home.
A young child has taken up residence and eight year old, neutered Shadow, who is up-to-date on his vaccinations and de-clawed, is finding it difficult to share a home he considers to be his alone.
This beautiful black boy is generally very loving and affectionate with the human folks in his life and certainly enjoys the company of other cats.
It is always sad when a feline of this age is in need of being re-homed for, unlike a younger cat, it is highly disruptive process. We are confident, however, that because of his sociable nature and laid back manner, Shadow will fit in well with most any family that does not have youngsters in the mix.
———————————————-
If you, or someone you know, is interested in adopting a rescue pet, please contact the Oasis team at 289-385-6293
Find the perfect rescue pet for your household
Help our rescue pets find new homes – Please share our animal stories with your friends. Or subscribe here for free – receive pet updates straight to your inbox:

Oasis Animal Rescue – a non profit organization providing Durham Region society with humane animal rescue services – specializes in pet adoptions, re-homing and community outreach programs. Telephone 289-385-6293