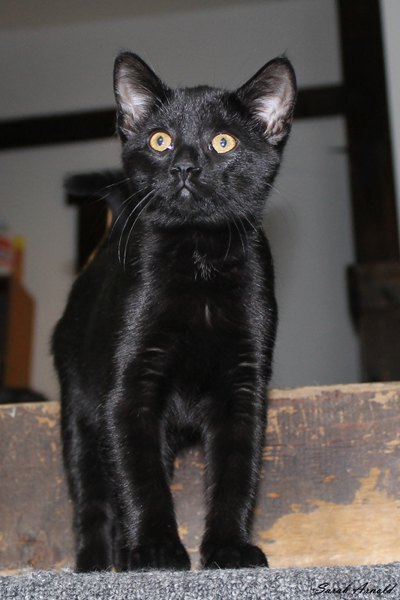 UPDATE:
Luna was adopted by a gentleman who had previously adopted Leopold, another rescue cat re-homing success from Oasis, at the beginning of the year. 
It's clear that Luna will do well with an older cat companion for he thoroughly enjoyed having all of the other cats with  
which to interact in his foster home. 

Our thanks go to Luna's foster carers and to his new owner too. Rescue pets need all the help they can get and the people who foster or offer a forever home to a needy pet are just the best!
ORIGINAL TEXT:
Luna is coal black with large, golden eyes that give his tiny face an almost pixie-like quality.
At twelve weeks of age, this gorgeous kitten has been de-wormed and given his first set of shots.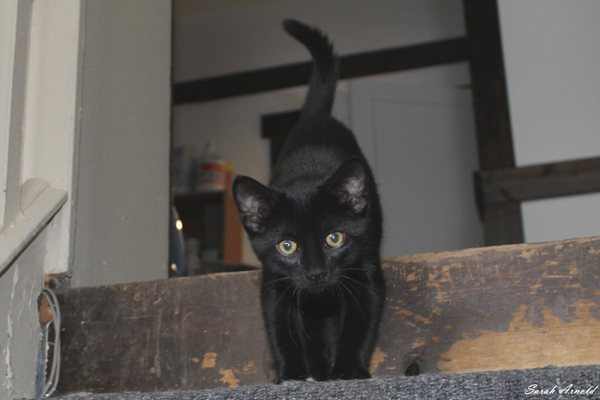 Discovered as a stray by a Durham couple he was, unfortunately, not welcome in their home and thus arrived at Oasis.
Luna is a ball of energy. Affectionate, sociable and curious, this little guy would do wonderfully in a multi-cat household where he could romp and play at will. Alternatively, if adopted into a forever home with another kitten to interact with, he would be perfectly content.
——————————————————–
Is coal black kitten Luna the perfect pet for your household? To adopt Luna, please contact Oasis at 289-385-6293, or complete and send this contact form:
I'd like to know more about adopting a pet from Oasis:
Please check you've entered your contact details correctly. When you press 'Submit', you will be redirected to our home page and a confirmation email will be sent to you - if not received in your inbox, please check your spam box. If applicable, please also specify the name of the animal you are enquiring about. Thank you.
View more domestic pets available for adoption at the Oasis Animal Rescue and Education Center, Durham Region.
 Meet Oasis Team Members at Durham's Autofest 2012
Perhaps someone in your social network would love to adopt one of these rescue pets.
Share the pics with your friends.