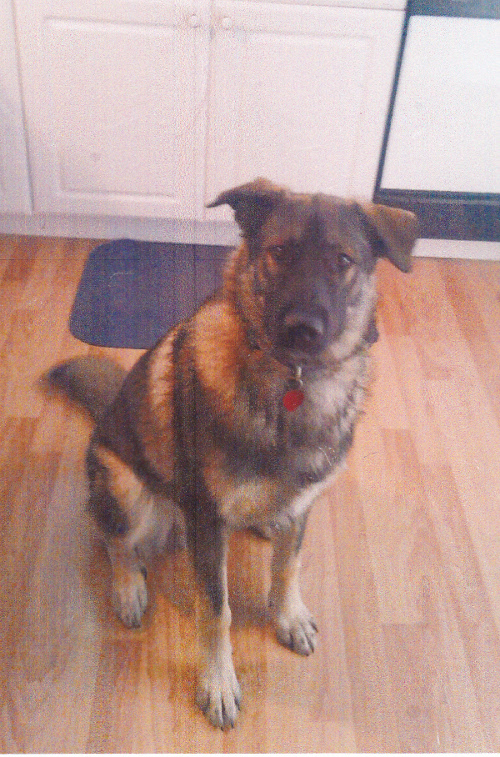 UPDATE May 10, 2016:
Takoda was adopted from Oasis Animal Rescue back in early 2013. His adoptive family tell us that he has become a great dog and they've sent along the following pics to share with our followers.
It's always nice to hear how an Oasis adopted pet is doing. Nice to see you again Takoda, glad you're having fun – you're looking great!
Takoda will soon also have a new friend. His owner is adopting one of Goldie's kittens. Congratulations!
UPDATE Jan 2013:
For a dog that loves to play, play, play – Takoda has hit the jackpot!!!
This big pup has been adopted by a lovely young woman with a beautiful home in Brampton that sports a huge yard. Every week-end is spent up on Lake Simcoe at a cottage she and her boyfriend own so Takoda is going to gets lots of exercise.
Enjoy. Best of luck from the gang here at Oasis.
————————
Original Text:
Takoda is, truly, just a big puppy. Twelve months of age, up-to-date on his vaccinations and full of life, this handsome Husky/Shepherd mix loves to romp with the other canines in his household and play, play, play!!
His present owner, unfortunately, is feeling the financial pinch of maintaining three large dogs and has decided to seek a forever home for Takoda.
At such a young age, this boy is receptive to being taught any number of commands and would be a perfect companion for a single individual or a family unit willing to work with and devote lots of time and effort to helping him become the lovely dog he is meant to be.
———————————————-
If you would like more information about adopting a rescue animal please contact Oasis at 289-385-6293, or complete and send this contact form:
More pets who have found their forever homes
Cats for adoption – Durham Region, Ontario.
Dogs for adoption – Durham Region, Ontario.
Help our rescue pets find new homes – Please share our animal stories with your friends. Or subscribe here for free – receive pet updates straight to your inbox:

Oasis Animal Rescue – a non profit organization providing Durham Region society with humane animal rescue services – specializes in pet adoptions, re-homing and community outreach programs. Telephone 289-385-6293