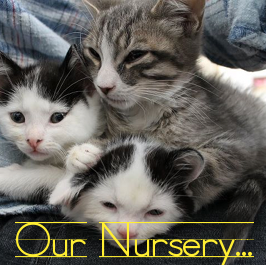 It's definitely kitten season at Oasis Animal Rescue!!
On our website you'll find THE CUTEST pics and NEWS about the kittens currently in care with us.
This is definitely the season for kittens in the animal rescue world. Through our Nursery Pages you keep up-to-date with the happenings of all the kittens we are looking after at Oasis Animal Rescue and Education Center in Oshawa.
If you would like to adopt a kitten, or if you can offer a kind donation to our rescue PET FOOD BANK, we'd love to hear from you.
Just get in touch with us through our Contact page, or give us a call at: 289-385-6293.
Subscribe here today for free news and pet updates from Oasis Animal Rescue: