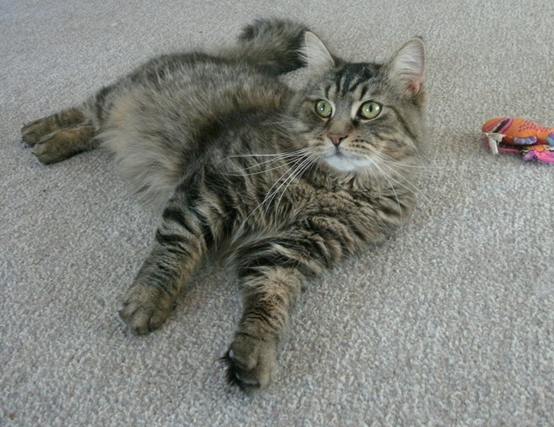 UPDATE:
WOW, Tony really lucked out. He has been adopted by a man with plenty of room in his home for Tony – in fact, lucky Tony even has his own bedroom! Not a lot of adopted cats get that luxury, but with an attentive new owner, ready to spoil him rotten (and he deserves it after a rough start in life), we don't think Tony will spend much time alone in his new room. Would you, if someone was showering you with treats and attention?
Have a great time in your new home Tony. We'll miss you, so keep us posted on the fun you're having (and remember not to eat too many treats or you'll be too lazy to play).
ORIGINAL TEXT:
Tony, a gorgeous long haired tabby, is 2 years old, neutered and up-to-date on all of his vaccinations. He is presently living in a very busy foster home with a number of other cats. Tony definitely prefers the company of felines to being on his own so would thrive in a household where he had other cats with which to play, cuddle and interact. This boy has had a tough start in life with little individual attention and will thrive when showered with lots of love and a daily dose of yummy treats.
For information on how to Adopt Tony or any other pet you see on this website, please contact Oasis Animal Rescue and Education Center. To view all the pets available for adoption, go to Pets Looking For A Home.