UPDATE 19 June: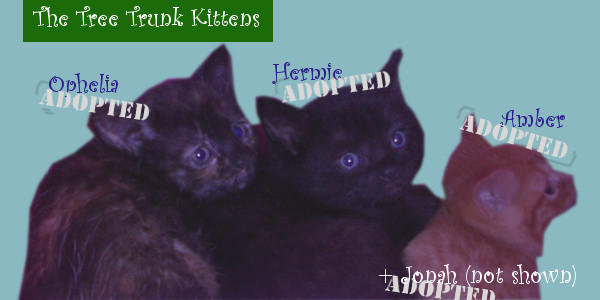 YAAAYYYYY!!! Both Hermie and Amber have been adopted! That means all the Tree Trunk Kittens will have safe, warm and comfortable futures ahead of them.
We seem to have a constant flow of kittens looking for homes… Check our Baby Pets For Adoption section, scroll down to use our contact form, or call us at 289-385-6293 – there may be new litters that haven't yet made it to the website!
UPDATE 17 June:
Congratulations to kitten Jonah. He's found a new home. And he's now got a new playmate who is not unfamiliar to him…. he's been adopted by the same family who adopted his sister Ophelia a couple of weeks ago. Lucky boy!
Have fun and best wishes Jonah from all of us at Oasis.
Amber and Hermie (click following thumbnails for recent photos) are still looking for new homes – contact us at 289-385-6293 for more information, or scroll down this page for our contact form.
UPDATE 14 June:
Some recent shots of Amber and Hermie – aren't they nice?
UPDATE 5 June:
We're happy to announce that for Ophelia – one of our 'Tree Trunk' kittens – the forever home dream – has become a reality!!
Amber, Hermie and Jonah are still hoping to join happy homes. Call us for more info about these kittens for adoption (289-385-6293), or scroll down for our contact form.
——————————————-
UPDATE 31 May:
Turns out that our 'Tree Trunk' kittens are pretty photogenic little characters. They haven't found homes to go to yet, but they're "working it" in these recent photos wouldn't you say?
To find out more about one of the Tree Trunk kits, scroll down to use our online contact form, or call Oasis at 289-385-6293 during office hours.
———————————————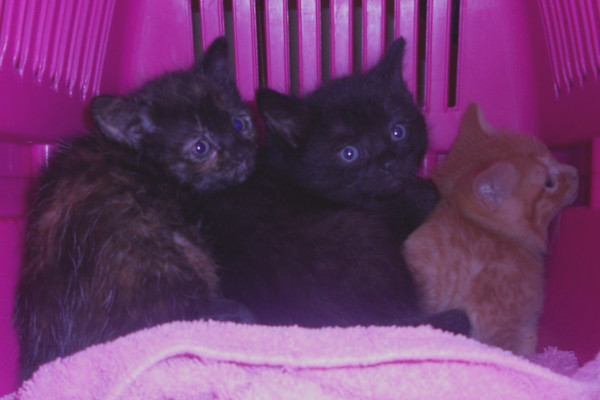 Their Story:
The semi-feral mother cat of these four kittens (one is hidden in the photo) found an odd spot to give birth to and start raising her little family. A local resident found them in a tree trunk!
Mom was no longer with them but it appears she was at least able to keep them all safe for a while. At approximately five weeks of age and starting to explore the world on their own, they were in real danger of falling from this confined space and perhaps wandering off – or worse.
They are now safe with a foster dad until we find them forever homes. We've named them: Amber (gold kitten), Hermie (black kitten), Ophelia (tortoise shell – ADOPTED) and Jonah (not visible).
They are being hand-reared and extra care is being taken to ensure they eat, drink and continue to grow strong.
———————————————-
If you would like more information about adopting a rescue kitten please contact Oasis at 289-385-6293, or complete and send this contact form:
I'd like to know more about adopting a pet from Oasis:
Please check you've entered your contact details correctly. When you press 'Submit', you will be redirected to our home page and a confirmation email will be sent to you - if not received in your inbox, please check your spam box. If applicable, please also specify the name of the animal you are enquiring about. Thank you.
Durham Region Cats For Adoption.
Durham Region Dogs For Adoption
How Your Donations Help The Pets At Oasis
Help our rescue pets find new homes – Please share our animal stories with your friends. Or subscribe here for free – receive pet updates straight to your inbox:

Oasis Animal Rescue – a non profit organization providing Durham Region society with humane animal rescue services – specializes in pet adoptions, re-homing and community outreach programs. Telephone 289-385-6293