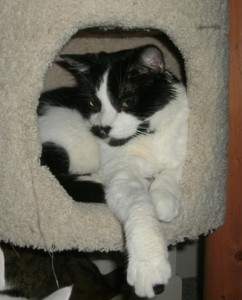 Alana, picked up somewhere in Durham region and officially labelled " a stray",  has spent the last few months in a tiny cage at a local shelter.
It is presumed that she once had a home for she is extremely social. She enjoys being brushed and cuddled and seems to be a master of the "non stop" purr.
Having been examined by the vet, and up-to-date on her shots, it is estimated that Alana is about six years of age and has been spayed.
This little lady is seeking a forever home that can provide her with all of the love and attention that she so justly deserves.
---
For more information on how to Adopt Alana or any other pet you see on this website,
please contact Oasis Animal Rescue and Education Center.