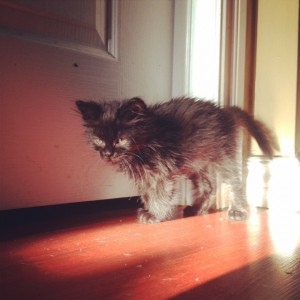 Juniper is now almost nine weeks of age. Her story begins at General Motors where a "sweep" of feral cats was made and their mother was forcibly removed from them at the tender age of one to two days.  Oasis immediately took the kittens in and, after being checked by the vet, we proceeded to care for them. Unfortunately three of her siblings did not make it but Juniper is thriving. She has been hand raised and is a loving bundle of joy.  She will be a wonderful addition to any family.
---
For information on how to Adopt any or all of these New Born Kittens or any of the other pets you see on this website, please contact Oasis Animal Rescue and Education Center.
To view the pets available for adoption, go to Pets Looking For A Home.