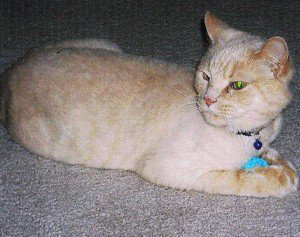 Quinton is a nine year old boy who is neutered, declawed and up-to-date on his inoculations.
His present owner, unfortunately, is unable to keep him for there is a human member of the immediate family who is allergic to cat dander.
To alleviate this, in the interim period, Quinton has been shaved.
Cool for the summer months but not so appealing in the winter!
A "lap cat", who is great with children, Quinton craves a quiet, laid back household to call his own.
---
For information on how to Adopt Quinton or any other pet you see on this website, please contact
Oasis Animal Rescue and Education Center
. To view all the pets available for adoption, go to
Pets Looking For A Home
.