[Caution: Graphic Images Below]
UPDATE 28 August:
First, a HUGE thank you to every one of the generous Knuckles supporters who helped us out with veterinary costs for this fantastic little guy. As a non-profit organization caring for pets that are often abandoned, neglected or suffering, our vet costs can be enormous. Without your support we would never be able to help Durham Region pets in need.
You'll be pleased to hear that Knuckles has been getting on great since his operation and is coping extremely well considering he now has only one eye. He is voracious when it comes to "chowing down" and is now at a normal weight for a cat his size.
Another piece of great news is that Knuckles has been adopted by his foster mom – after nursing him through a tough period, she just couldn't imagine life without him around. So he has now found a permanent home. YAY!  It can be a difficult task to find a forever home for special pets like Knuckles so as you would expect, we are thrilled for him.
Congratulations Knuckles and best wishes in your new permanent home.
Thanks again, supporters …. you're the best!
UPDATE 2 August:
Knuckles is recovering after the operation to have his eye was removed. He is doing GREAT!! He is feisty, has regained his appetite and his foster mom is having a whole lot of difficulty giving him his medication because he has regained his strength.
It's always amazing (don't you think?) how well animals recover. But so unfortunate that they have had to endure neglect in the first place.
Veterinary costs for Knuckles are a real burden, but we are pleased to have been able to help him. Now to find him a new home!!
Here are a couple of photos of Knuckles in recovery. If you can provide a forever home for him, or a donation towards veterinary costs – you'll find our contact form, a clickable donation button at the bottom of this page.
—————————————————–
Knuckles' Story:
Knuckles is a very sad case. He is currently quite a mess and has suffered badly.
It is quite evident that this male, unaltered cat has been neglected for a long period of time and that, but for a "tip" from a concerned citizen, would have deteriorated to the point of no return in his previous owner's care. When alerted to the situation, Oasis stepped in and has sought immediate veterinary care for this poor guy.
Through neglect, Knuckles is suffering from the following conditions:
Severe dehydration
Infected with fleas
Devoid of fur on a significant portion of his body
A gaping wound behind one ear
An eye so badly lacerated that it must be surgically removed
Oasis has committed to helping Knuckles get the care he has been lacking and deserves. We're hoping that you might be able to help him too by offering a donation towards veterinary care costs, a foster home or a permanent home once he's recovered: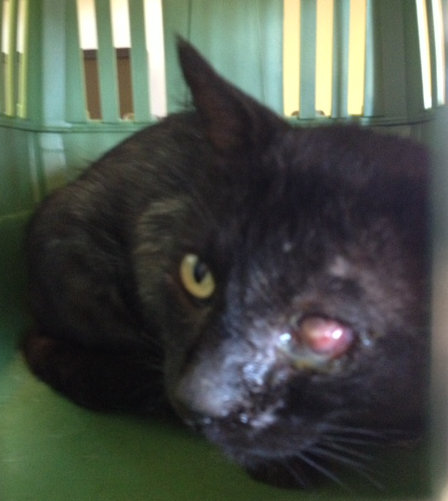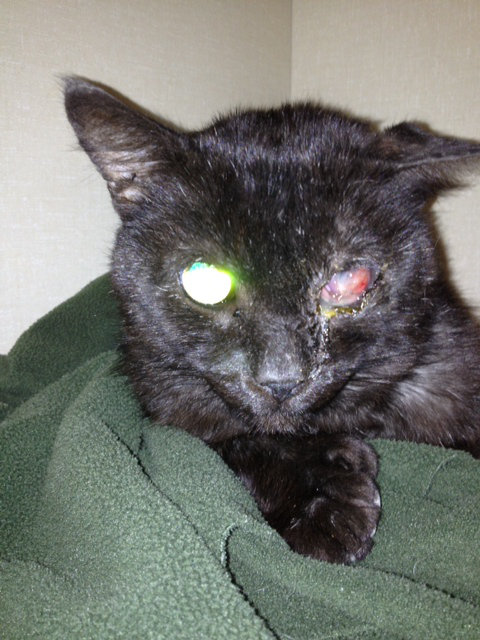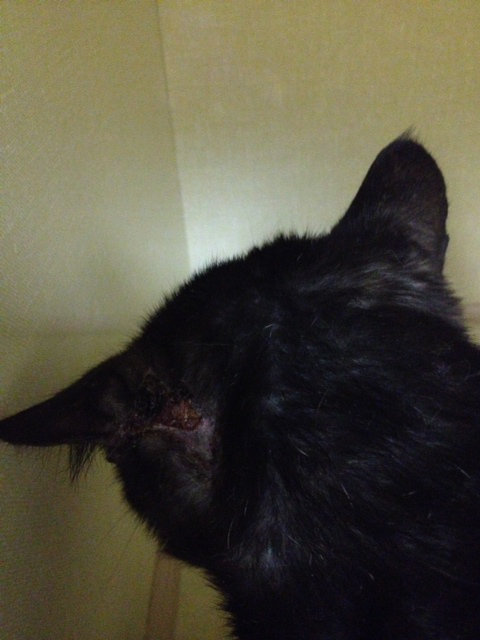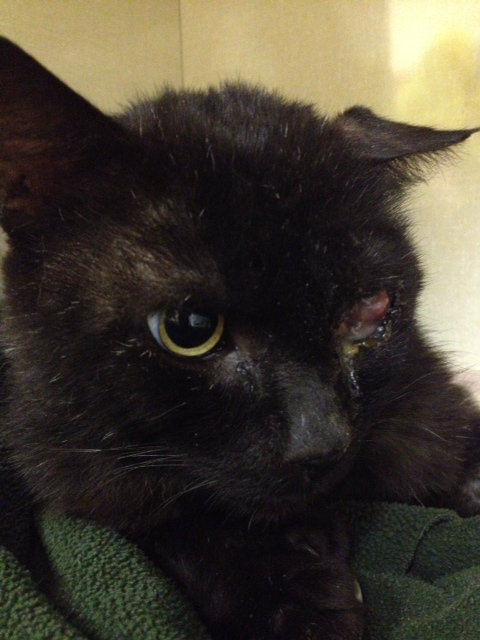 Veterinary costs will be an extraordinary $1800!
As you can imagine, that's a significant drain on our small, non-profit organization. Any donation you are able to make would be very much appreciated. Especially by Knuckles.
Donations can be dropped off at our office – 86 Simcoe Street North, Oshawa – 289-385-6293, or can be made safely and securely online through PayPal by clicking the donate button below:
———————————————-
When Knuckles has fully recovered from this ordeal, a comfortable forever home will also be needed. Perhaps you would be able to provide that for Knuckles. If so, please contact us today. 289-385-6293
———————————————-