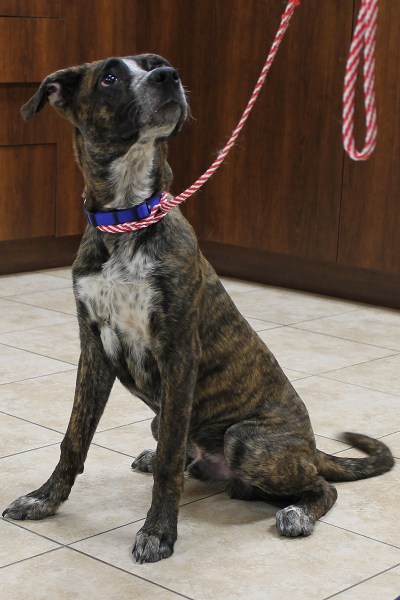 UPDATE: It always makes us happy to announce a forever home has been found for one of the rescue pets at Oasis… and today we're happy for Max. This delightful boxer mix puppy, who had found himself in need of a new home at just five months of age, has had his dream come true.
After interviewing his new family at their home (as we are committed to doing for all the pets being adopted through our non-profit organization) the Oasis team is comfortable knowing Max will now grow up with the attention and care he truly deserves.
Thanks to all of our site visitors for helping us spread the word about Max – you're the best! We appreciate everything you do and hope you can continue to help us find new homes for more of Durham Region's pets in need.
Why don't you come along to meet the Oasis team at one of the events we're attending this year in Durham Region?
All the best in your new home, Max.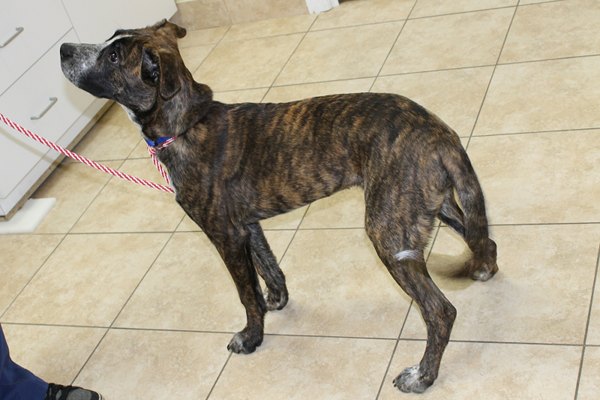 ORIGINAL TEXT:
What a boy our Max is!!! Five months of age, full of energy and great with other animals, this brindle Boxer mix is a pure delight. A charming puppy, he is loving, sociable and ready for his forever home.
Max, unfortunately, has been bounced around quite a bit over the course of his young life and is currently settled in a wonderful, but temporary, foster home, lapping up all the attention, treats and hugs coming his way.
Max is up-to-date on his vaccinations and will be ready to be neutered within the next few months.
—————————–
Interested in adopting a Durham Region rescue pet?

Contact Oasis today

to find out more.
View more pets for adoption at the Oasis Animal Rescue and Education Center, Durham Region.
Subscribe here today for regular updates on all of the pets at Oasis: